Look! Up in the sky! US military overflights signed into law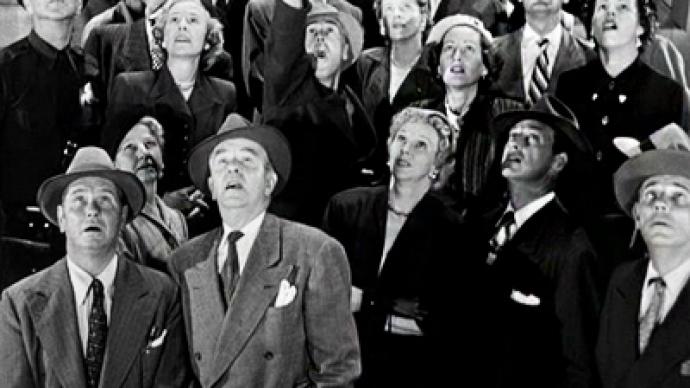 Russian President Dmitry Medvedev has put the finishing touches on a Russian-US agreement that allows the United States to airlift weapons, military equipment and armed forces to and from Afghanistan through Russian air space.
­Medvedev and US President Barack Obama signed the accord in Moscow in July 2009 and agreed to start using it 60 days after the ceremonial signing. That is, before its formal ratification.

The newly-signed law grants the United States a maximum of 4,500 flights per year in each direction.

The agreement forbids US aircraft from touching down on Russian soil during their flights. The transit of specific weapon types that supplement the agreement, however, must involve stopovers in Russia. Meanwhile, the agreement also states that American personnel are under Russian jurisdiction while they are in Russian air space, with the exception of some cases set down by international law, as outlined in an explanatory note to the accord.

Since the agreement went into force, the US military has airlifted some 15,000 troops and more than 19,000 tons of cargo each way, according to the Russian Foreign Ministry.

For Barack Obama, who sent an additional 34,000 US troops into Afghanistan, bringing the total number of American forces to 100,000, the Russian supply routes have become an invaluable part of the big game plan.

In the past, US supply routes through Pakistan have been troubled by that nation's increasing volatility, while Uzbekistan evicted American troops from a base in 2005. Kyrgyzstan threatened to do the same, until American negotiators secured a reversal in a deal that dramatically raised the rent.

Russia, as a contribution to the US, NATO and Afghan efforts in the fight against resurgent Taliban and Al-Qaeda forces, does not charge the US transit fees for the flyovers. Plus, flying over Russian territory reduces the possibility of the US encountering unforeseen events.

"The US knows it's much safer going through Russia," political analyst Vladimir Evseev told RT in an interview. "There were up to 200 trucks with cargo lost in Pakistan… the US wants to ensure safe conditions for transit personnel."

But many analysts are still asking a very good question: what has Russia received in return for the flyovers? Could it be the case that Russia agreed to them without demanding anything in return?

"We have not been told what concessions America's made in return for those flights to Afghanistan,"  Stephen Cohen, professor of Russian History at New York University, told RT in an interview. "If it didn't make any concession, then [the Russian leadership] will have to answer to the Russian political class. If the US made a major concession, Obama hasn't told the American people what it is yet."

One concession that Russia would like to see in return for the flyover privileges is a more serious fight against poppy seed production, the raw material of heroin, which is quickly becoming one of the biggest causes of death in Russia and Europe.

Will the war on poppy get serious?

Russia continues to express its frustration with US-NATO efforts in Afghanistan, where heroin production has exploded by 40 times since Operation Enduring Freedom was launched on October 2, 2001, the Director of Russia's Federal Drug Control Services said.

Meanwhile, Russian health officials say that up to 30,000 Russians are dying every year from heroin-related illnesses. Yet, despite this dramatic surge, Russia says, US forces in Afghanistan are not adequately addressing the poppy problem.

Viktor Ivanov, Russia's Federal Drug Control Service director, said that Russia "has not received an appropriate reaction from NATO" in return when it comes to combating heroin production.

Ivanov, clearly frustrated with NATO's foot-dragging on the issue, specifically mentioned Russia's decision to open an air corridor across its territory as a reason for cooperation.

"Why has the Russian government's good-will decision to make a corridor available for the transportation of personnel and NATO civilian cargo by rail and air from Europe to Afghanistan not received an appropriate reaction from NATO," Ivanov asked during a visit with his Italian counterparts in Rome earlier this month.

Russia has long advocated the use of defoliants, sprayed on poppy fields via aircraft, as a means of eliminating Afghanistan's poppy crop, but for various reasons – none of them acceptable to the Russian side – these plans have never materialized.

One reason is that the US side fears the poppy producers, if suddenly deprived of their means of sustenance, will turn to terrorism to feed their families.

"When the US says you can't deprive farmers of their livelihood, it actually sends a message to the Afghan leadership as well, saying they shouldn't do it because, first, this will destroy people's livelihoods and, second, you push farmers into the hands of the Taliban," Ivanov told RT in an interview. "I think this is merely an excuse."

According to the Federal Drug Control Services, an estimated 711 tons of heroin are consumed annually in Europe, 549 tons in Russia, and 212 tons in North America.

Ivanov said that the end product of almost ten years of fighting in Afghanistan has resulted in a "boomerang effect on health and public order" not just in Russia, but across Europe as well, where drug addiction is hitting record levels.

"The key essential result of the past decade is that the entire Afghan territory controlled by the NATO-led International Security Assistance Force (IFOR) has produced enormous quantities of drugs worth a total of $1 trillion, an indisputable fact," Ivanov said. "The international medical prescription for Afghanistan has produced an opposite effect in the form of large-scale drug production."

Ivanov portrayed the coalition's failure on the heroin front as "a side effect of the military operation and a…major factor in the proliferation of criminal and terrorist elements."

Given Russia's significant contribution of an air corridor into Afghanistan across its territory, not to mention its dire demographic situation, it will be interesting to see if US and NATO forces get serious about tackling Afghanistan's drug problem, which is quickly turning into the world's problem.