Countdown to an arms race? Romania agrees to host US interceptor missiles
Published time: 14 Sep, 2011 10:02
Edited time: 14 Sep, 2011 16:00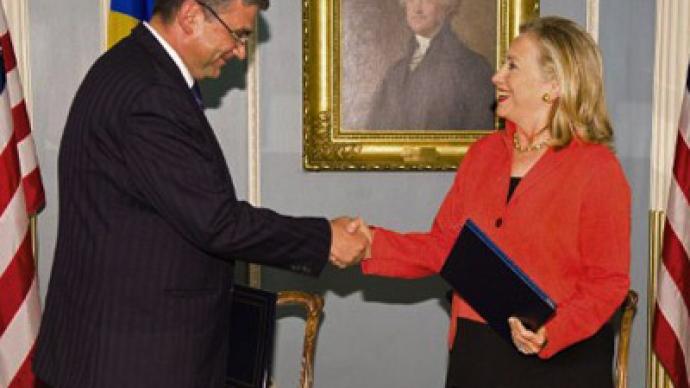 Moscow reiterates its demand for guarantees that the system will not be "even theoretically capable of targeting Russia."
The Russian Foreign Ministry is demanding "firm and legally binding guarantees" that the US-NATO missile defense system will not pose a national security threat to Russia.
"We note that the developments (the agreement between Romania and the US) make it even more important that we receive firm and legally binding guarantees from the US and NATO that the missile defenses they are deploying in Europe will not be aimed against Russia's strategic nuclear forces," the Russian Foreign Ministry said in a commentary posted on its official website.
Romanian Foreign Minister Teodor Baconschi and US Secretary of State Hillary Clinton met in Washington where they signed an agreement for the deployment of a ballistic missile defense system in Romania. Under this legally-binding agreement, a US land-based SM-3 ballistic missile defense system will become operational at the Deveselu air base in southern Romania.
The Russian ministry provided a detailed description of the system that the US and NATO, in cooperation with Romania and Turkey, are "swiftly and consistently implementing" in Eastern Europe, just miles from the Russian border.
"The agreement with Romania on the deployment of a ground version of the SM-3 interceptor missiles and the Aegis system at the former Air Force base of Deveselu, as well as the recent announcement on the upcoming deployment of the US forward-based missiledefense radar AN/TRY-2 in Turkey, show that the US is swiftly and consistently implementing its missile defense plans in Europe," the statement read.
This is happening in the absence of progress in Russian-NATO and Russian-US dialogue on missiledefense, it added.
The ministry stressed that it is not just concerned about the isolated developments occurring in Romania and Turkey, but rather the long-term expansion of the system, which many Russian military analysts warn could "surround Russia" in a matter of years.
"The plans to deploy a missile defense base in Romania by 2015, and regardless of the evolution of real missile challenges, is just another link in a strategic global missile defense infrastructure being built by the United States of America," the Russian Foreign Ministry said.
Moscow insists on "forging efficient and substantive solutions within the Russia-NATO Council regarding the design and architecture of the missile defense system being deployed in the region," it said.
In an interview with the Associated Press, Romanian President Traian Basescu denied that close cooperation with the United States over missile defense and the war on terror had stoked tensions in and around Europe.
Asked about allegations from the Council of Europe that Bucharest allowed the CIA to set up a secret "black hole" prison where suspected terrorists were interrogated and possibly tortured, Basescu responded through an interpreter: "We have no knowledge of this subject."
Meanwhile, Russian permanent envoy to NATO Dmitry Rogozin met with NATO Secretary General Anders Fogh Rasmussen upon returning to Brussels from negotiations in Rome to address Moscow's concerns with a European missile defense system.
Rogozin expressed his frustration over European NATO members' unwillingness to cooperate with Russia on the system.
"What primarily concerns Russia is the position assumed not by the Americans but by the European NATO members regarding chances of cooperation between Russia and the alliance on plans to build a missile defense project exclusively on an equal basis, with strict observance of the parties' strategic interests," Rogozin, who is on something of a European crisis-control tour, told Interfax.
The NATO envoy said it was vital that the system, which is moving ahead, cannot "even theoretically" threaten Russia's vital interests.
"It is in our strategic interest that the NATO missiledefense potential being created in Europe should be unable – even theoretically – to block any Russian strategic nuclear forces," Rogozin stressed.
He said he is actively involved in meetings and negotiations on this issue by President Dmitry Medvedev's order and will continue them in Paris on Wednesday morning.
Rogozin said he had held substantive consultations with Italian political and military leaders in Rome and was received by Italian President Giorgio Napolitano. He said he also had a telephone conversation with Italian Prime Minister Silvio Berlusconi and negotiations with top officials from the Italian Foreign and Defense Ministries.
In Paris, Rogozin said he is scheduled to meet with Defense Minister Gerard Longuet, Secretary General for Defense and National Security Francis Delon, and presidential diplomatic advisor Jean-David Levitte.
"The specifics of negotiations in Paris, compared to the Italian and other consultations that have already been held, is in the need to place a special emphasis on meetings with French parliamentarians," he said. "In doing so, I am planning to respond to an invitation from the French senators and deputies working hard on setting up a special commission to draw up a report on European missile defense problems, taking into account France's national interests."

He pointed to France's arsenal of nuclear weapons as a major reason for Paris wanting to consider Russia's "full and unconditional participation" in the missile defense architecture.
"Since France is a European country possessing a thermonuclear missile potential independent of NATO, a conversation on risks that the deployment of a U.S.missiledefense in Europe poses to France is undoubtedly an important conversation to both Russia and France," he said.
In May, following the conclusion of the G-8 Summit in Deauville, France, President Medvedev warned of a possible arms race unless the US and NATO can prove the system does not threaten Russia's national security.
"After 2020, if we do not come to terms, a real arms race will begin," Medvedev warned.
Given Moscow's real concerns over the construction of this sophisticated system, which has shown an ability for spreading both spatially and technologically (not to mention financially), and the arms race it may spawn, it would seem logical that NATO members re-think their current position.

Otherwise, the peace they think they are preserving will come at an unsustainable price for everybody.