US forces transfer last prison with Hussein officials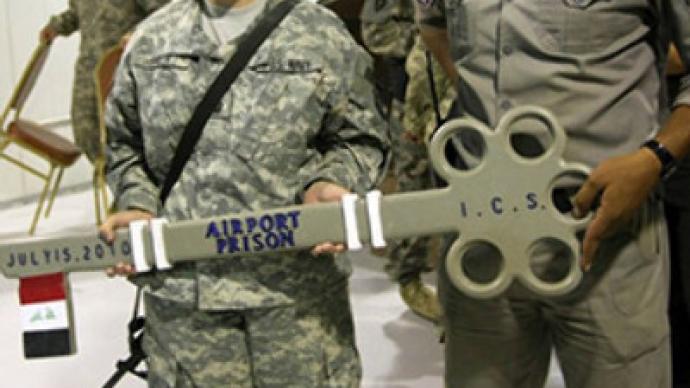 The US army on July 15 handed over 29 former senior members of Saddam Hussein's regime, including Tariq Aziz, to Iraqi authorities.
The members of the toppled Baathist regime are being detained in Camp Cropper prison, which is now controlled by the Iraqi government. Cropper, situated near Baghdad, was the last US prison in Iraq.
The detention camp was opened after the occupation of the country by US forces in March 2003 and is now holding 1,600 detainees who had belonged to Hussein's inner circle. The former Iraqi leader was also held in the prison.
US Deputy Commanding General for Detainee Operations Jerry Cannon described the transfer of Camp Cropper as "the first day of a new era." According to Cannon, now "all elements of the Iraqi criminal justice system are able to assert their role in providing the continuous safety and security of the Iraqi people."
Originally built as a tented site, Cropper was upgraded after the abuses in Abu Ghraib prison in 2004. Abu Ghraib was returned to the Iraqi government last February. General Ray Odierno, the commander of US forces in Iraq, said the American military had learned lessons from Abu Ghraib.
"We did not properly anticipate a counter-insurgency which would require us to handle a large number of detainees," he told reporters.
The Iraqi government will now take responsibility for Tariq Aziz, 74, a former deputy prime minister. He complained to his son on Wednesday that is conditions had recently deteriorated, media say.
Aziz, a Christian, was sentenced by an Iraqi court to 15 years in prison for his role in the 1992 execution of 42 merchants accused of price-fixing, but acquitted of some other charges.
Ten months ago 29 other officials of the Hussein regime were transferred to Baghdad. Abdul-Ghani Abdul-Ghafour, a senior Baath Party official, is facing the death penalty for taking part in crushing a Shiite uprising in 1991.
The United States also transferred Camp Bucca last September, and Camp Taji in January. The US military are continuing to hold 200 detainees in Iraq. They have to be handed over to the Iraqis by December 2011, when American forces are to leave the country. The transfer of Camp Cropper marks another major step on the road to Iraq's full sovereignty.
Sergey Borisov, RT
You can share this story on social media: