Diplomatic damage control: McFaul predicts repeal of Cold War-era legislation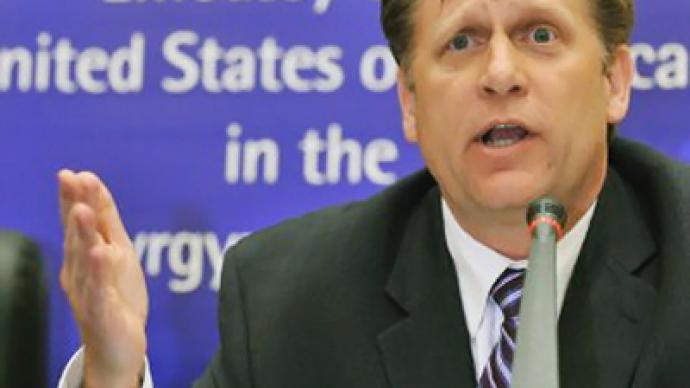 With exquisite timing apparently designed to mitigate controversy over his inaugural meeting with the political opposition, the new US Ambassador to Russia, Michael McFaul, says Washington will soon repeal the 38-year-old Jackson-Vanik Amendment.
Speaking at the Gaidar Forum on Thursday, McFaul hailed Russia's accession to the World Trade Organization (WTO) before casting his prediction that the archaic Jackson-Vanik Amendment will soon be relegated to the ash heap of history.

McFaul's comments came one day after Russian Foreign Minister Sergey Lavrov warned that Russia would not comply with its WTO commitments in trading with the US until the latter repeals the legislation, which has been a source of diplomatic wrangling between the two former Cold War enemies for almost four decades.

"If the Jackson-Vanik Amendment remains in force by the time the ratification of the documents on our accession to the WTO is completed, then the agreements we have concluded within the WTO framework will not be applied to our trade with the United States," Lavrov said.

US Congress passed the Jackson-Vanik Amendment in 1974 in response to Soviet Premier Leonid Brezhnev's so-called "diploma tax" on would-be emigrants who had received their higher education in the Soviet Union. Critics of the amendment argue that with the collapse of the Soviet Union, the continuation of the amendment represents a form of trade discrimination.

In March, US Vice President Joe Biden urged Congress to repeal the outdated legislation.

Meanwhile, political observers say McFaul may have been attempting to defuse tensions that were sparked when he met with several political activists as one of his first acts as ambassador.

More than one Russian commentator criticized the incoming diplomat over the move.

Mikhail Leontyev, host of the political program "Odnako," said despite McFaul's mastery of the Russian language and significant experience of working in the country, he was not considered to be an expert on Russia, but rather a skilled promoter of Western-style democracy.

"McFaul is not a specialist on Russia," Leontyev said on his primetime program. "He is a specialist on democracy promotion, pure and simple."

The report also mentioned McFaul's past work with political organizations which Leontyev said were connected with the secret services.

"In 1992, he [McFaul] was the representative in Russia of the National Democratic Institute, which is known for being close to the American secret services and which 'prepares political leaders for the countries of the Third World'," Leontyev said.

McFaul responded curtly to Leontyev's report via Twitter, noting that the program included "no word about the three years of 'reset.'"

In light of these developments, it will be interesting to see what path the Russia-US "reset" takes in 2012.