'No foreign citizen enclaves on Russian territory' - Medvedev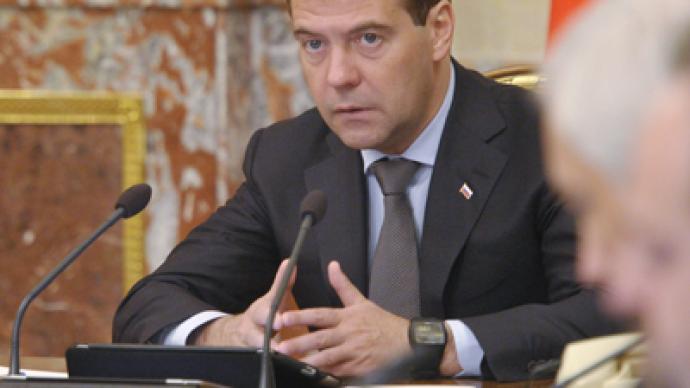 Dmitry Medvedev has told the government to pay more attention to foreign migrants to prevent ethnic enclaves from appearing on Russian soil, as well as excessive expansion of foreigners to the country's Far East.
At the same time, Russia's prime minister stressed that the officials should not be afraid of international migration, but work harder in order to manage it. "Our key task is to create a civilized and balanced workforce market, something we have not achieved yet. And provide our economy with skilled labor," Medvedev said. According to Medvedev, there are currently 10 million foreign migrants in Russia (among over 140 million total population). The PM admitted, however, that the estimates were crude and the figure was comparable to the total population of a large city, such as Moscow.The head of the government added that the current migration balance was not in Russia's favor as emigrants were usually people with higher education, while those who immigrated to Russia were "people with low qualifications, who hardly speak our language and often know nothing about our laws or our culture." He stressed that if the country chooses to attract workforce the immigrants must be specialists in professions that the society feels a shortage of and the migration must not harm Russians."Of course we must give the green light to foreign entrepreneurs, specialists, well-prepared professionals, professors, scientists; we must promote student migration," Medvedev said.At the same government session, the head of the Russian Migration Service said that only 17 per cent of immigrants who are currently working in Russia have legal permits to do so. At the same time, the official noted that after Russia introduced preferences for skilled specialists, the number of foreigners who observe all regulations increased twofold, reaching 33,000 people.According to statistics, over 100,000 foreigners received temporary residence permits in Russia within the first six months of this year, 60,000 received permanent residence permits and about 45,000 became Russian citizens. However, the number of foreigners that were brought to justice over various violations is significantly larger – 300,000.
You can share this story on social media: