Brighter future in United Russia election promise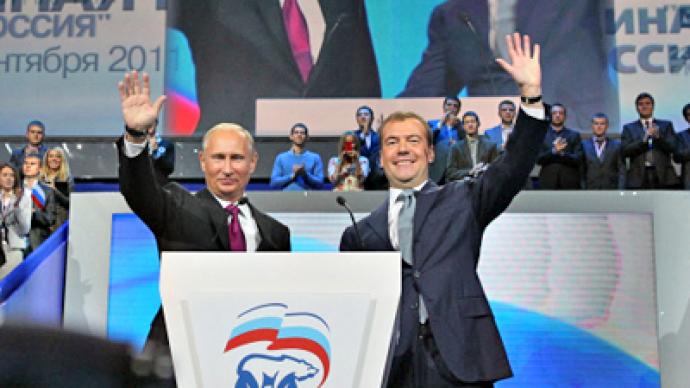 Russia's ruling party has published its program ahead of the December elections, supporting Dmitry Medvedev as its new leader and Vladimir Putin as its future presidential candidate.
The document, addressed to the citizens of Russia and published on the party's website, is based on Dmitry Medvedev and Vladimir Putin's program speeches, delivered at the United Russia Party Congress on September 24. The program, described as "person-centered," has outlined eight key pillars on which the party is planning to build its political strategy. This includes modernization, social responsibility, eradication of corruption, external and internal security, provision of international and interreligious peace, strengthening of the judicial system, an independent foreign policy and the development of a modern political system in Russia. The party promised that within the coming five years Russia will join the club of five major world economies and pledged to "form a real middle class." The program said that in the coming years the party intends to create 25 million work places, support business, develop transport infrastructure and roads, as well as invest in science and cutting-edge technologies. United Russia promised that by the end of 2014, the average salary would increase  1.5 times, adding that it would build at least 1,000 schools in the next five years. It also called on Russian business to become more "socially responsible" and contribute to the development of a charity and volunteer culture in Russia.  The party also pronounced justice to be an "unconditional value" and proposed to increase consumer, real estate and property taxes for the rich.  As for the army and navy, the program announced plans for major rearmament in the coming five to ten years. It also promised a full welfare package and salary increases for the country's military personnel. Dmitry Medvedev is heading the election list of the party, which will contest parliamentary elections on December 4. The program stressesd that United Russia is a pro-presidential party. "Our list is traditionally headed by the country's president," it said. "The future is with us! We will win together!" it proclaimed.
You can share this story on social media: