Putin and United Russia: a match made in November?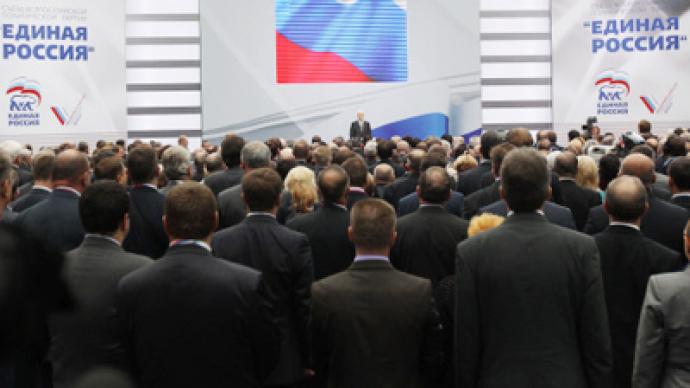 Prime Minister Vladimir Putin will most likely be nominated as the presidential candidate for United Russia during the second part of its elections convention scheduled for late November, says the secretary of United Russia's General Council presidium.
During United Russia's first convention, held in September, incumbent President Dmitry Medvedev endorsed Putin as the party's presidential candidate for next year's elections.
United Russia supported the suggestion almost unanimously, and Medvedev, who now tops the party's list for parliamentary elections, said the convention should also endorse Vladimir Putin for the 2012 presidential elections. This has not happened yet, however, since technically parties cannot propose candidates until the Federation Council (the Upper House of the Russian Parliament) announces the date of the elections.
The announcement must be made no sooner than 100 days and no later than 90 days ahead of the voting date. The previous presidential elections took place on March 2, 2008. The Central Elections Committee announced in late September that the date of the presidential elections will be March 4, but this still need to go through the official procedure.
Sergei Neverov, the secretary of United Russia's General Council presidium, told the press on Wednesday that his party had set the date for the second part of the elections convention.
"We plan the congress…for November 27, if the Federation Council makes a relevant decision in line with the law," Neverov said. "We expect that there will be several events at which the election ticket leader, Dmitry Anatolyevich Medvedev, and United Russia leader Vladimir Vladimirovich Putin will be together."
The joint events will not only be interesting but also substantive in content, he added.
United Russia, which will release its elections program on October 19, is now preparing for December elections with the goal of retaining its majority in the State Duma, Neverov said.
According to Neverov, United Russia's political program is a fairly large document that includes the direction the United Russia deputies will take during their next term in the Lower House, which has been changed to five-year terms following a recent constitutional reform.
The political program is based on public addresses made by President Dmitry Medvedev and United Russia leader Vladimir Putin. Neverov added that the suggestions made during the nationwide discussion of the program that took place this summer were also included.
The United Russia official said United Russia's platform is based on the construction of an investment economy and modern state governed by the rule of law. He also said that the state would honor its social obligations and throw its support behind the Russian middle class.
"We are saying that in the nearest future Russia must be in the world's five largest economies," Neverov said. "Within the next five years the country must have full alimentary independence."