Ultra-nationalist movement won't be legalized
Published time: 9 Aug, 2011 13:29
Edited time: 9 Aug, 2011 17:29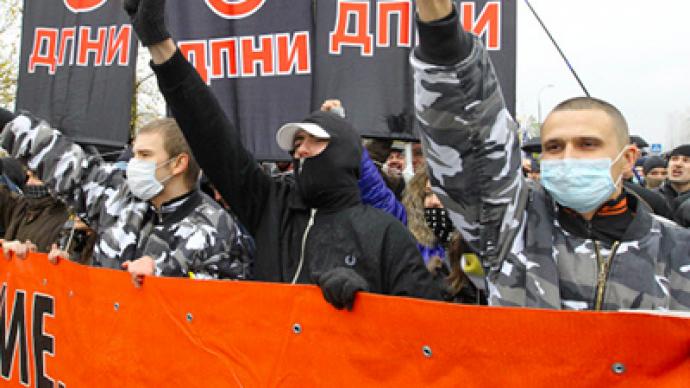 Russia's Supreme Court has rejected a complaint by the Movement against Illegal Immigration, thus confirming an April ruling handed down by the Moscow City Court to ban the organization as extremist.
­This means that activists of the DPNI (Movement against Illegal Immigration) in Russian can now be held criminally liable for membership in the organization, a charge punishable by up to two years in prison.
After the Supreme Court's ruling was announced, DPNI members present at the hearing said that they still have plans for "new projects": "This decision [to ban the movement] has given us an impetus for new ideas. We now have more energy for new projects and new organizations," stated one of the leaders, Vladimir Ermolaev. He added that he and his fellow members are "disappointed" and accused the Supreme Court of "civil indifference".
The Moscow Prosecutor's Office sent a petition demanding the ban of the DPNI back in February, saying that the activities of this ultra-nationalist organization "reflect the ideology of Nazi skinheads, that is, of people who share the ideas of National Socialism." The Moscow City Court satisfied the claim on April 18. The DPNI then filed the previously mentioned appeal, which has now been rejected.

Back in April, a former DPNI leader Aleksandr Belov criticized the ruling which, in his opinion, may "radicalize youths nationwide and lead to mass protests." The prediction did not come true, though. At the same time, several nationalist organizations joined forces to form a new movement simply called "Russians".
The DPNI was created in 2002 as a reaction to illegal immigration and cases of interethnic clashes between Slavic Russians and foreigners. Among the general public, it was known for its widely-publicized "Russian marches" which attracted more than 5,000 participants each year. Its ban came shortly after the notorious mass riots which transpired on Moscow's Manege Square last December.  The peaceful rally, which was held in memory of a killed football fan, turned violent as nationalist slogans were used to inflame underlying racial tensions.