Ukraine lifts ban on Russian TV… sort of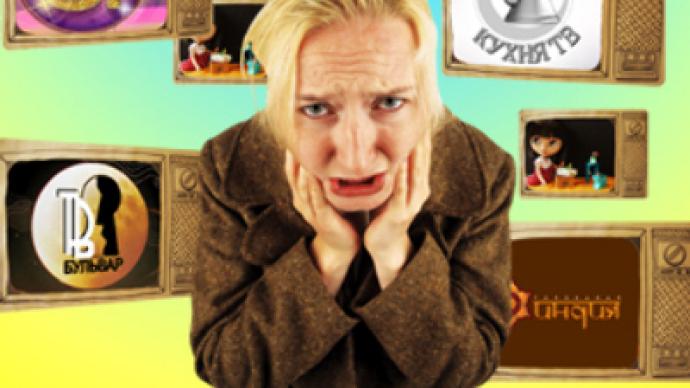 Thirteen Russian TV channels have been given permission to broadcast in Ukraine after being taken off the air in November. But those given the green light are entertainment channels. Russian news and business stations remain blacklisted.
The most popular Russian channels abroad – RTR-Planet (the overseas wing of Russian state broadcaster RTR), REN TV, TVC International, and Channel One Global Net – are not among the channels that will be available to several million Russians speakers living in Ukraine.
The November ban came into effect after Ukraine's National Council on TV and Radio Broadcasting warned that all foreign channels must be adapted to comply with the country's laws or face being taken off air.
However, it wasn't made clear what changes needed to be made. The council said the named broadcasters had violated several laws regarding advertising, copyright and ethical norms.
Shortly afterwards, Channel One got provisional permission to resume broadcasting to Ukrainian audiences.
On Wednesday, the council granted permission to 14 international channels, including 13 Russian ones, to broadcast on Ukrainian territory.
Among the channels that are considered suitable by the authorities is for instance Bulvar TV – a channel covering scandals and featuring celebrity gossip.
Russian speakers will also be able to watch Kuhnya TV (Kitchen TV), providing cookery classes and airing stories about world cuisines.
Meanwhile, fans of Bollywood will be able to watch India TV. There is also good news for those interested in martial arts, music and tourism.
Despite official explanations, many see a political motive behind the ban, deriving from tense relations between Moscow and Kiev.
Some have suggested that the softening of Kiev's stance towards Russian broadcasters may be connected to Gazprom's threat to cut gas supplies to Ukraine over unpaid debts.

Ukraine is not the only former CIS state who's censored Russian channels.
In Georgia, Russian-language media outlets were shut in August, shortly after the beginning of the Caucasus conflict.

You can share this story on social media: