Ukraine marks 19 years of independence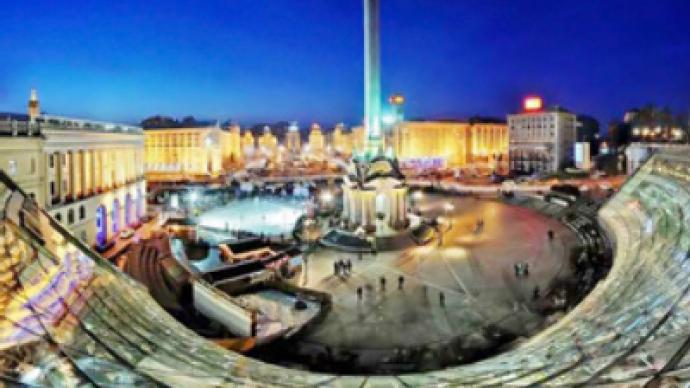 Major reforms in Ukraine are just beginning, President Viktor Yanukovich has said at a ceremony marking the country's 19th anniversary of independence, which is marked on August 24.
"The first steps we have taken are just a precondition for the start of systemic reforms… The real work is just beginning," Yanukovich said, speaking on Kiev's central square – Maidan Nezalezhnosti – as quoted by Interfax agency. The Ukrainian leader vowed that the reforms will cover all spheres of the country's life. Their goal is to turn Ukraine into "a democratic, developed and social state". He stressed that he will not let the country stray from the path of democratic reforms "for the benefit of a handful of selfish politicians".
Yanukovich has set three main tasks to be fulfilled in the near future: "the humanization of society, modernization of economy and achieving European standards of living."
In his address to the nation, published by the presidential press-service, Yanukovich set gaining economic independence as a key priority. "Now that we are entering the 20th year of independence, the government is doing everything it can to make Ukraine an economically independent state, because real independence is based precisely on that foundation," he said. The program of reforms that Yanukovich is proposing is aimed exactly at making Ukraine an economically independent state, he added.
Yanukovich pushes for constitutional reform
The Ukrainian President has also urged the adoption of a constitutional reform that would give him more powers and help to push through economic reform.
"I see the renovated Ukraine as a state with a strong political system, and I am ready to offer the public such a formula," he stated. This "formula" would include a strong president who "holds almost all of the levers of co-ordination, control, the implementation of key reforms, and the country's strategic course." The parliament should be competent and politically structured – with a strong coalition and influential opposition.
The executive branch of power "must be responsible, professional and free from any 'untouchable' ministers and administration heads," he stressed. Finally, the president said that the country should have independent and fair courts which citizens can trust.
Such a political system should start working as soon as possible, he underlined. "Therefore, we should fundamentally improve the constitution."
European integration a key priority
As for Kiev's foreign relations, European integration remains at the core. The president noted that now, for the first time since declaring independence, Ukraine has approached gaining associated membership in the European Union. "I believe that the Ukraine-EU summit which is due to take place in autumn will become a defining step on this path," he said.
The normalization of Kiev-Moscow relations, he said, is no obstacle for Ukraine's European integration. On the contrary, it furthers the process. "United Europe needs an economically-strong Ukraine which, together with Russia, contributes to strengthening stability," Yanukovich added.

In his greeting message to Ukraine, Russian President Dmitry Medvedev has specifically noted both countries' intention to a constructive resolution of all issues based on the principles of equality and respect of each other's interests.
Prior to the presidential election, Yanukovich had been seen as rather a pro-Russian candidate, as opposed to his West-leaning predecessor Viktor Yushchenko, who was seeking NATO membership, a policy which brought relations with Moscow to its lowest point since the collapse of the USSR. Since the very beginning of his term in office in February this year, Yanukovich has been striving for balanced relations with both the West and its former Soviet republic neighbors.
Yanukovich has also managed to build a rapport with Washington. In April, during his first face-to-face meeting with Barack Obama on the sidelines of the US nuclear summit, Yanukovich announced Ukraine's intention to give up its stock of highly-enriched uranium by the summer of 2012. The move was very much welcomed by Washington, who, in return, offered technical and financial help to Kiev.
Ukraine "brought a bilateral dialogue with the United States to a higher level and disposed of highly-enriched uranium," Yanukovich said on Tuesday, writes Itar-Tass. "We not only supported our partner's initiative, we also made another convincing contribution to the creation of nuclear-free world."
Congratulating Ukraine on its Independence Day, US Secretary of State Hilary Clinton assured that Washington is "proud to be your partner" and vowed that the US will continue to support Kiev in its "work to achieve the full benefits of democracy and all of the blessings that go with it."
"You honor the democratic values that not only Ukrainians, but also Americans, share," she said in a statement.
On August 24, 1991, the Verkhovna Rada – the parliament of the then-Soviet Republic – adopted the Act of Declaration of Independence of Ukraine. To reaffirm the act, a referendum was held in Ukraine on December 1, 1991. Over 90 per cent of the republic's population supported the idea of Ukraine being an independent state and leaving the USSR.
While for politicians, Independence Day is yet another chance to show off, the Ukrainian public is enjoying a day off and festive events that have been organized throughout the country. It is planned that up to 800,000 people will take part in celebrations which will end with fireworks in the evening.
You can share this story on social media: