Ukraine trying to dance at two weddings… but does it have a partner?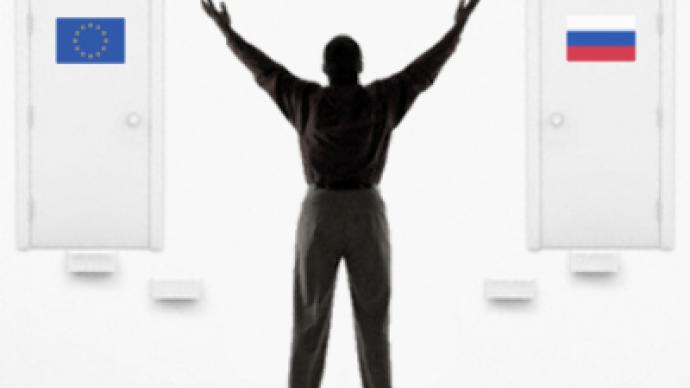 "Doors firmly shut" -- this is how Ukraine's president has described the chances of his country becoming part of the EU anytime soon.
At the same time, Viktor Yushchenko told students at Kiev's Institute of Foreign Relations, Ukraine must do everything within its power to bust open these doors. But despite being pessimistic about Kiev joining the EU in the near future, he still believes that the country has been on the right course during the five years he has been at the helm.
"We shouldn't be standing with our faces pressed against closed doors," Yushchenko said. "We should be removing these doors. Our place is in the EU, and the union is incomplete without Ukraine."
Not everyone, however, agrees with him.
Yushchenko's statements came two weeks after the EU-Ukraine summit was held in Kiev. During the summit, European Commission President Jose Manuel Barroso said that he didn't see much progress in Ukraine's push toward EU membership.
"We very often see that reforms needed for the EU membership are being fulfilled only partially here," he said. "In Ukraine's case, words and promises do not always match actions."
Despite several years of intensive economic growth which preceded the world financial turmoil, Ukraine is still seen by the World Bank as one of the poorest countries in the region. The country's ombudsman, Nina Karpacheva, speaks of nearly 70 percent of Ukrainians living below the poverty line. So for a majority of the population, EU membership would serve as a solution. The latest polls suggest that 60 percent of Ukrainians approve of the country's integration into Europe.
Olga Lopatova, 28, an IT specialist from Kiev, says that hardly anything can change these aspirations.
"In the last several years we have seen constant political turmoil, just as we have seen strong ideological differences among our people," she said. "But if there's one thing we have solidarity about, it is Ukraine's plan to join the EU, simply because we believe it would make our lives better."
However, for the time being, Europe isn't too keen on bringing the European dream closer to the Ukrainians – something both European officials and those in power in Kiev admit. Political analyst Mikhail Pogrebinsky, from Kiev's Center for Political Research and conflictology, believes he knows the reason.
"The gas conflicts that Moscow and Kiev have had in the last 5 years seriously dented Ukraine's chances of EU membership," he suggested. "Especially last year, when Kiev's inability to sort out its issues with payments for the Russian gas resulted in a large part of Europe being left without supplies of Russian gas. In some way, Europe feels its dependency on Ukraine as a transit country and Kiev's failings in that field have led to what could be better described as irritation toward Ukraine in the EU."
Indeed, the term "gas wars" appeared after Yushchenko came to power. Prior to the Orange Revolution, Ukraine had been buying Russian gas at massive discount, but after the strain in relations escalated, Moscow urged Kiev to convert to market prices, something the country could hardly afford to do at the time. These tensions resulted in Russian supplies to Ukraine being stopped twice, in 2006 and 2009.
This year Prime Ministers Putin and Timoshenko made it clear during their meeting in the Crimean city of Yalta that Ukraine has been paying on time and that another gas dispute will be avoided. Nevertheless, agreements made by the two country's governments came under scrutiny in Yushchenko's administration, which described these agreements as a humiliation to national interests. At the same time, Ukraine's president made a statement quite atypical for his foreign policy.
"Those frictions we have with Russia are temporary," he said. "And I believe that common sense will prevail. I have shook hands with the Russian leadership; I am shaking hands, and will be shaking hands."
Some experts find such words hard to believe. Pogrebinsky says that during the 5 years of his rule, Yushenko has done a lot to distance Kiev and Moscow from each other.
"He wants to shake hands with leaders in Moscow, but he doesn't quite understand that they do not want to shake hands with him," Pogrebinsky said. "He should have thought twice before going to Tbilisi during last year's military conflict and supporting Saakashvili. He can say whatever he wants now, but all of us clearly understand that damage has been done and it's irreversible."
Ukraine is now going through a presidential campaign, which will culminate in voting on January 17 and, should there be a second round, February 8. Analysts predict a tough race between opposition leader Viktor Yanukovich and acting Prime Minister Yulia Tymoshenko. Yushenko is also running, but the latest opinion polls suggest there's practically no chance of him being re-elected.
Five years on since the fateful Orange Revolution, Ukraine seems to live up to a tag once given to it by one media outlet: "a country stuck between the East and the West." So in both the matter of EU membership and re-building ties with Moscow, Ukraine's new president – whoever it may be – faces what for now seems to be an uphill task.
Aleksey Yaroshevsky, RT, Kiev