Iron Lady behind bars: Tymoshenko moved to prison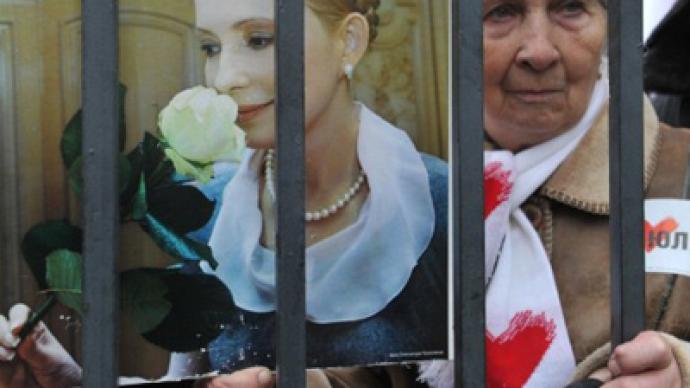 Former Ukrainian Prime Minister Yulia Tymoshenko, who is serving a sentence of seven years behind bars, has been moved from a Kiev detention center to prison in the Kharkov Region in a "comfortable" van.
On Friday morning she was conveyed to jail to serve her sentence, Ukraine's state penitentiary service said in a statement cited by Interfax. "Before departure, Tymoshenko was examined by doctors who stated that her health allowed her to be moved," it said. The officials also denied media rumors that the jailed politician was in a wheelchair, unable to walk. "This information is incorrect. It was made up to attract ungrounded sympathy concerning her health," the press service said. It also added that Tymoshenko, 51, was transported in "a comfortable minivan with every convenience (bio-toilet, a washbasin and two sofas)." A separate vehicle was provided to deliver 12 suitcases with the personal belongings of the opposition leader – once known as the "Gas Princess". Meanwhile, the jailbird's daughter, Evgenia Tymoshenko, claimed that neither the family nor the lawyers had been informed about Tymoshenko's transfer to prison, the ex-PM's official website reports. The daughter stated that her mother was carried to a paddy wagon and "brutally" thrown into it. Evgenia also appealed to the media to stop spreading "lies about 12 suitcases".The Ukrainian "Iron Lady" was delivered to Kachanovskaya Penal Colony in the Kharkov Region. Its head, Ivan Pervushkin, told journalists that Tymoshenko would be placed in a cell with an area of 37.5 square meters, which can accommodate up to seven people. As of the moment, the Orange Revolution leader will be sharing her space with only one woman.Kachanovskaya Penal Colony was considered exemplary in terms of discipline in Soviet times. Only once, back in the 1970s did a female prisoner attempted to escape from it. One of the largest colonies in Ukraine, it can house up to 1,000 women, sentenced from one to 15 years behind bars. It is the only facility in the country to accommodate women sentenced to life imprisonment.According to Tymoshenko's lawyers, her health conditions have seriously deteriorated since August this year when she was locked in the detention center. The opposition leader has complained of severe back pain.On December 23, Ukraine's Court of Appeals ruled to turn down an appeal to release Tymoshenko – a fierce rival of President Viktor Yanukovich – from custody. On October 11 she was sentenced to seven years in prison for exceeding the extent of her power during the signing of gas deals with Russia back in 2009.
You can share this story on social media: