Turkmen personality cult takes a bashing!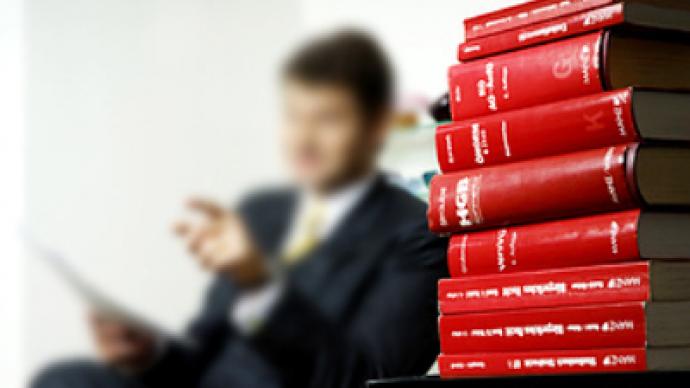 Authorities across the central Asian republic of Turkmenistan have started seizing copies of books by former president Saparmurat Niyazov, whose personality cult once gripped the republic.
The web-site 'Chronicles of Turkmenistan' says members of a special governmental commission are visiting various organisations and replacing all traces of Niyazov with books and portraits of the current president Gurbanguly Berdymukhamedov. Allegedly, workers at these organisations even have to pay for the stuff brought in.
When Niyazov, who had the title 'Turkmenbashi' (Father of Turkmen), was in power, all citizens of the country had to read his Rukhnama which contains a list of moral rules, as well as his views on the Turkmen people.
Students and even officials had to pass an exam to prove they knew the contents of the "sacred book".
The Father of Turkmen was stating that those who read his book "would become intelligent, understand the laws of nature, laws, human values, and after that would get directly to paradise."
Stalin, Mao, Kim Il Sung… Saparmurat Niyazov
During Niyazov's rule, many monuments were erected to him throughout the country. The grandest one was the twelve-metre tall golden statue of Turkmenbashi which slowly rotates so that it constantly faces the sun.
The monument tops the 75-metre tall Arc of Neutrality in the capital Ashkhabad.
The town once known as Krasnovodsk and many streets, factories and schools were named after Turkmenbashi.
He introduced a new calendar in which the names of all the days of the week and months were changed. January was named after Niyazov himself (Turkmenbasy ay), April after his mother (Gurbansoltan ay), and September after his book (Rukhnama ay).
Among other things, Niyazov issued laws which prohibited gold teeth and beards and long hair (for men). He shut all rural hospitals and cancelled pensions to those old people who had children to look after them.
Opera, ballet, cinema, having radios in cars and the internet were all banned.
At the same time Turkmenbashi himself was not a poor man. His collection of rings alone cost millions of dollars.
End of the decorum?
After Niyazov died in 2006 and the new president came to power, Turkmenbashi's portraits and statues started disappearing from the country's streets and administrative buildings.
The Arc of Neutrality together with the statue was moved from the centre of the capital to the south of the city.
In July 2008 Turkmenistan returned to the traditional names of days and months.
Since September of the same year, studying Niyazov's book has been strongly curtailed in Turkmen universities.
And now it seems Turkmenistan has entered the final stage of shaking off the Turkmenbashi personality cult.
The only thing is that it comes amid recent publication of the collected books of the new president…
You can share this story on social media: