Tskhinval is 70% destroyed – South Ossetia's Prosecutor General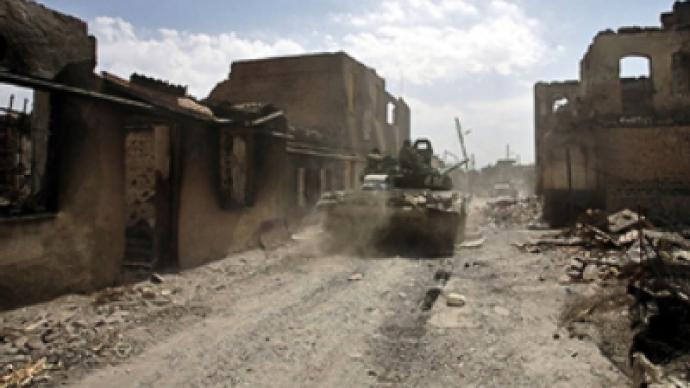 Georgian troops have virtually fulfilled their aim of destroying Tskhinval – the city is 70 per cent destroyed and according to the current estimations more than 3,500 people suffered, Taimuraz Khugaev, South Ossetia's P
We know that the South Ossetian Prosecutor General's Office has joined the process of collecting evidence of crimes against the civilian population of the republic. According to the first data on the number of victims, 1692 people have been killed. What is this number based on?
Taimuraz Khugaev: As you know, the South Ossetia Prosecutor General's Office has been carrying out active work on investigating this case since August 12. A criminal case on charges of genocide has been launched by the Investigation Committee of Russia's Prosecutor General's Office, and its workers have been co-operating with us. We have been providing assistance to our Russian colleagues and many investigative actions were being performed simultaneously. We have been interrogating the population and local administration heads to collect evidence about the victims. The work was hampered by the fact that 37,000 people – almost half of South Ossetia's population – have left the republic. As a result, there was no possibility to get full information.
Currently, thanks to various sources, we have made a preliminary list of victims of the conflict, containing 1,692 people. But as investigation must have exact data, we are continuing our work on detecting and identifying our citizens killed during the aggression. Practically all burials had been unapproved due to the military actions, a lot of those killed were taken to Russia. They were buried in different settlements in North Ossetia and some even in Russia's southern administrative district. Now the work is underway to detect the burial places. We have found about 250 graves on the territory of South Ossetia. In connection with it, a series of forensic medical examinations have been carried out and victims have been reburied with their relatives attending. Further work is being carried out. 1,692 is not a final figure. Fortunately, there is a decrease in the number of victims. Yesterday it appeared that two people who were on the list of victims are alive. They had been taken hostage by the Georgians. Thanks to Thomas Hammarberg, the Council of Europe's Human Rights Commissioner, they were handed over to us in Karoleti, in Georgia's Gali district.
Under which sections of the Criminal Code have criminal cases been launched?
The criminal cases have been launched on the article 105 part 2 and the article 357 ('Genocide') of the Criminal Code of the Russian Federation. Taking into consideration the constantly rising amount of new evidence, the number of charges is also rising. Thus such attendant articles as 'Grave physical assault', 'Kidnapping' and 'Intentional property destruction' appear.
How many residents of Tskhinval and South Ossetia in general are currently being kept hostage? Is there any data on it?

In fact the people currently being kept hostage are not only those captured after August 7 and taken out to Georgia, but also those residents who fell victims to various provocations and against whom criminal cases had been fabricated. We are working to help those people as well. Yesterday we managed to set free four such people. On the Georgian side the initiative was taken by Givi Targamadze, Head of the Georgian Parliament's Security and Safety Committee. He is fulfilling all contacts.
Tatyana Lokshina from the Human Rights Watch has said only 40 people from Tskhinval have been killed during the conflict. Please comment on her statement. Where do you think she got such data from?
This is a distortion of the facts. Most likely she got that data from Tskhinval's city morgue. At that moment 257 people were also wounded. Apparently she didn't know that that then the half-destroyed city hospital was working though under constant shelling. In fact, nobody was bringing bodies to the morgue, they were being buried right near the roads. People were covering the dead with branches and bestrewing them with earth, some were burying their relatives even in the gardens. The main thing at that moment was to cover dead bodies with earth at least temporarily. In the very first days, dozens of burial places have been found alongside the roads where refugees had been raked with fire – in such settlements as Tbet, Zar and alongside the whole bypass road. As for Lokshina, I don't know if she had ever been to South Ossetia. She didn't turn to the officials and didn't make any inquiries in the Prosecutor General's Office.
You are also conducting an investigation concerning South Ossetia's destroyed infrastructure. What objects underwent the largest destruction? Are there any estimations of the material damage?
The material damage assessment is being carried out. According to the preliminary data, all administrative buildings in the city are destroyed. The residential part is also severely damaged – mostly the multi-storeyed apartment blocks. Geographically, private houses and historic buildings were located in the centre of Tskhinval, and all densely populated housing estates were located in the eastern and southern parts of the city. The tank breakthroughs from August 7 to August 10 were being carried out from there. We seized several Georgian tanks' crews who were then interrogated. They testified about the orders they had got – to destroy all administrative buildings in the city, and educational, cultural and governmental institutions in the first place. Also they had got an order to destroy multi-storeyed buildings and the most densely populated districts. To my mind, they had been succeeding until we battled Tskhinval back. The city is some 70 per cent destroyed.
Have you conducted a survey of the destroyed cultural and historical part of the city?
We recorded all traces of damage. In the first place we have to take into account the pace of reconstruction there at the moment. If we're late by just a day, we won't manage to record everything. Reconstruction is underway at full speed. For example, by 1 September six schools should be restored to begin classes. Of course the damage is terrible. The building of the South Ossetian State University was completely burned out, as well as the drama theatre, the cinema, the art gallery and museum. The city library and youth library were completely destroyed, as were the buildings of the scientific research institute, and the concert hall. South Ossetian churches, including those built in the 11th, 14th and 17th centuries, were damaged. Every effort was made to destroy any trace of South Ossetians ever having existed. During the investigation charges of genocide were filed, and I want to add that a part of this charge is the destruction of cultural and historical artefacts.
If we understand correctly, Thomas Hammerberg acted as mediator in the process of freeing hostages. Are international human rights organisations, including representatives of the European Council, are working in the republic?
The main part of work has been done by David Sanakoyev, of course, with the active mediation of Thomas Hammerberg and active participation of Russian commandership. We are very grateful to General Borisov personally for making it possible to meet and hand back our hostages from Gali district in Geogia.
What is the South Ossetian Prosecutor Office going to work in the near days?
We have three major tasks. The first is normalisation of the situation and preventing any nationally motivated crimes. It is also important to control the situation particularly in the regions where there is a lot of Georgian population. We take action against looting and any oppression based on nationality and strictly suppress any such attempts. As you know, as a result of military action all the prisoners escaped and we are doing a huge work on bringing them back behind bars.
The second task is investigation into the facts of genocide of South Ossetian people. Practically all our efforts are aimed at that. By now around 3500 people have been confirmed as having suffered from that genocide.
The third task is law help to all the victims, collecting the addresses to the European Court of Human Rights and lodging complaints to the International Criminal Court.
Is there information on how many people are going to seek justice through the European Court?
For now we have more than 200 appeals. We help these people, supplying them with photo and video evidence from our investigation, non-governmental organisations and lawyers are dealing with this task. Charges are being brought on the facts of killing civilians and Russian peacekeepers. A large investigation group is working particularly on the problem of genocide against Russian citizens who were killed in South Ossetia, so, in fact, a parallel investigation is being carried out.
You can share this story on social media: