Tajiks offended over Russian politicians' rhetoric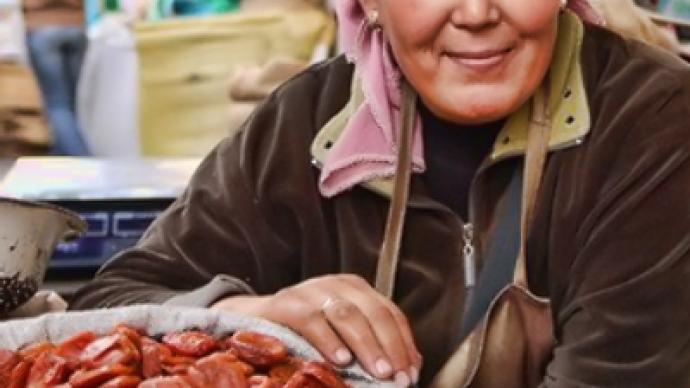 Tajikistan has expressed its dissatisfaction over the Russian vice speaker's and health minister's comments on the Central Asian republic, which followed an outbreak of polio in the country.
A note on the issue has been handed over to the Russian Ambassador to Dushanbe.
During a meeting with Russian Ambassador to Tajikistan Yuri Popov, Tajik Foreign Minister Hamrokhon Zarifi drew the Russian diplomat's attention "to the reaction of the Tajik side to the tendentious and negative comments made by certain Russian officials, including State Duma Deputy-Speaker Vladimir Zhirinovsky and Chief Public Health Official Gennady Onishchenko, that were posted on the Internet and in Russian media outlets," the ministry's statement reads.
Also, Tajikistan has repeated its request to lift the Russian ban on import of Tajik dried fruit imposed on May 5 amid fears that products could contain the polio virus. Dushanbe applied to Moscow with the same request a month ago.
According to Tajik foreign ministry, Interfax writes, "the ban has caused vast damage, especially in the Sogd region".
In addition to having to tackle with polio threat, Tajikistan – the poorest state of the former USSR – has suffered from floods, which have claimed about 40 lives and left thousands without livelihoods, having destroyed their houses and crops.
And it was Russian chief sanitary official's comment on the matter that Dushanbe found offensive.
"The flood was probably the Almighty's punishment," Gennady Onishchenko said, criticizing Tajik authorities for belated immunization.
"Tajikistan can do nothing," he went on. "They keep coming," he said, referring to thousands of migrants arriving in Russia from the republic. "What are former Soviet republics? They are used to a life being looked after by an elder brother," he added.
Zhirninovsky, a politician known for his outlandish and harsh rhetoric, has gone even further, suggesting that Tajikistan and Kyrgyzstan should become part of Russia.
"Tajikistan and Kyrgyzstan have no future as states," the Liberal-Democrats' leader said in an interview with RSN radio station. "Let's create a ninth federal district…of the Russian Federation. Thus, we will solve the following problems: no excessive working force, we will all have fruit, meat, and there will be no ill people there," he stated.
Also, according to the politician, that would also help to solve another major problem that Russia is facing – drug trafficking from Afghanistan, which Tajik authorities cannot block. Russian border guards, Zhirinivsky believes, would make sure no drugs were smuggled in from Afghanistan.
"Tajikistan is a foreign state now, and we cannot interfere [with their policies]," he went on. "They only cause troubles for us: drugs, excess migrants, the ill, smuggling. What do we need that for? So either become part of Russia, or we will close the border," he concluded.
The news that the dangerous viral disease had made a comeback in Tajikistan emerged in April. In May, after several cases of poliomyelitis were registered in Russia – each time the virus was imported from Tajikistan – Moscow had to introduce measures to fight the threat. The risk of infection being brought from the former Soviet republic is rather high, since thousands of Tajik migrant workers come to Russia to earn money.
According to the WHO's Global Polio Eradication program, Tajikistan is currently topping the list of polio epidemic countries, with 152 cases of confirmed cases registered this year.
However, according to the chief sanitary doctor of the republic, Azam Mirzoev, the number of people hospitalized on suspicion of poliomyelitis has dropped fivefold.
"Currently, over 100 people infected with polio type-1 remain in hospital," he said on Monday, as quoted by Interfax.
You can share this story on social media: