'Syria is not Libya' - Lavrov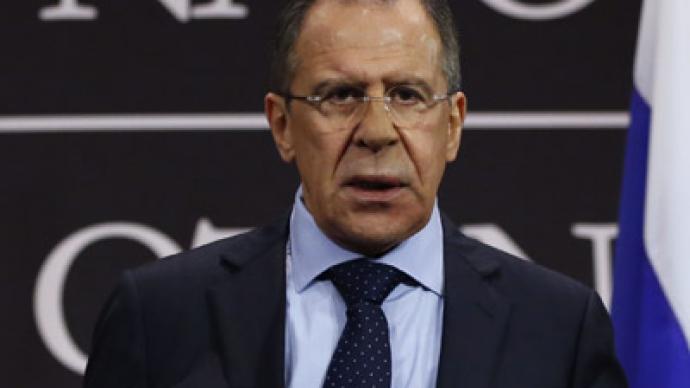 The Russian Foreign Ministry has told its NATO partners that it hopes there will be no attempts at military intervention in Syria.
Lavrov advanced Russia's firm position on Syria after a meeting of the Russia-NATO Council in Brussels on Tuesday."We hope there will be no foreign interference," he said.Moscow, which is pushing for a diplomatic resolution of the Syrian conflict, has regularly met with both the Syrian rebel opposition as well as those who are loyal to Syrian President Bashar Assad, whose rule has been fiercely challenged by a 20-month political uprising.Meanwhile, Lavrov revealed that NATO shares Russia's belief that a military solution to the Syrian problem is non-existent."Our partners touched upon the Syrian situation and assured us they were seeking an exclusively peaceful solution," he disclosed. "They said a military solution to the conflict was non-existent – and we fully agreed with them."Lavrov emphasized the Russian position that "there will be political and diplomatic support in an effort to urge the combatants to stop the bloodshed and sit down at the negotiating table.""Syria is not Libya," Lavrov added, making reference to NATO's decision to intervene in last year's Libyan civil war, which led to the capture and assassination of Libyan leader Muammar Gaddafi.At the same time, Lavrov told the conference that Damascus has assured Russian officials that the Syrian military is not going to use chemical weapons.The problem of the proliferation, not to mention the use, of weapons of mass destruction, including chemical weapons, is very serious the minister told a press conference."For us, any violations of international agreements in this area are unacceptable," Lavrov stressed.The Russian minister said this is not the first time "we hear rumors or information leaks that the Syrian authorities are moving chemical weapons or are preparing to use such weapons." Each time Russia takes resolute steps to verify the allegations and each time we are assured that "nothing of the kind is being planned or might be planned," he added.Concerning the possibility of chemical weapons being used in Syria, Lavrov noted that Russia is in regular contact with its European and American partners."We exchange information and always check such reports," the Russian diplomat said.The Syrian uprising began with peaceful protests in March 2011, but has developed into a civil war that observers say has killed up to 40,000 people.
You can share this story on social media: