'We won't let Syria become 2nd Libya' – Russian FM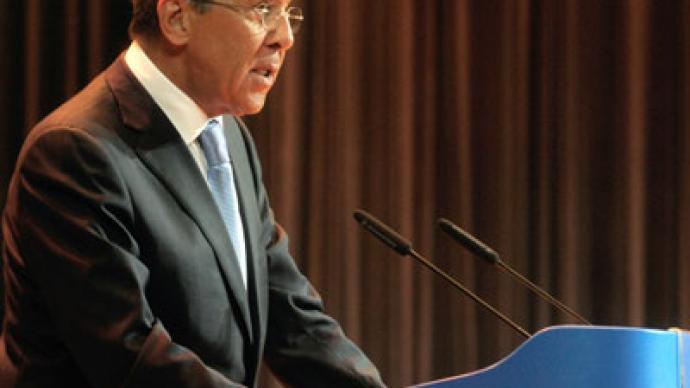 Russia will not allow the repetition of the Libyan scenario in Syria, Russian Foreign Minister Sergey Lavrov has said after a meeting with the Co-operation Council for the Arab States of the Gulf in Abu-Dhabi.
"We do not support regimes, we support international law," Lavrov reiterated Moscow's stance on Syria. Russia insists on mediating dialogue between the authorities and opposition in the country and this position is reflected in the draft resolution of Russia and China. He said that Russia supports a peaceful initiative of the Arab League. The document, which was made public on Monday in Doha, provides for withdrawal of tank units from Syrian cities and the start of talks between the forces involved in the conflict. According to Lavrov, this initiative is the only possible way to make sure that Syrians will "decide their future for themselves through national dialogue and civil reconciliation.""We advocate an approach which, among others, is applied in Yemen," the Russian foreign minister explained. "There was an initiative of the Co-operation Council for the Arab States of the Gulf. And everyone, be it the Council itself, the Arab League, the EU, US, Russia or China, acted responsibly, without setting artificial deadlines, waiting for months until the goal was achieved."Lavrov believes that the Security Council resolution on Yemen should be a used as a model for the future. This is something that goes against the stance of some "esteemed NATO member states" who say the Libyan operation should be viewed as a role model. "Isolation is not our approach," Lavrov outlined. "If something goes wrong in Syria, many countries of the region will feel a negative impact. We can't support isolation because of the lesson we drew from Libya."The lesson was that arms supplies to Libya continued despite the embargo introduced by the Security Council, "and some heads of states openly admitted the fact", which only contributed to the escalation of tensions.Lavrov also criticized the US decision to stop financing UESCO because of granting membership to Palestine. The Russian foreign minister said Moscow hopes that Washington will review its decision."We believe that accepting Palestine to UNESCO was a justified demand. The voting was legal," Lavrov said. He called the US decision "regrettable" adding that "it is not something that will help restore good climate necessary for resuming negotiations.Moscow is convinced that Palestinian authorities do not consider UNESCO or UN membership as an alternative to talks with Israel, the minister outlined.
You can share this story on social media: