Sushi vs dioxin in Yushchenko poisoning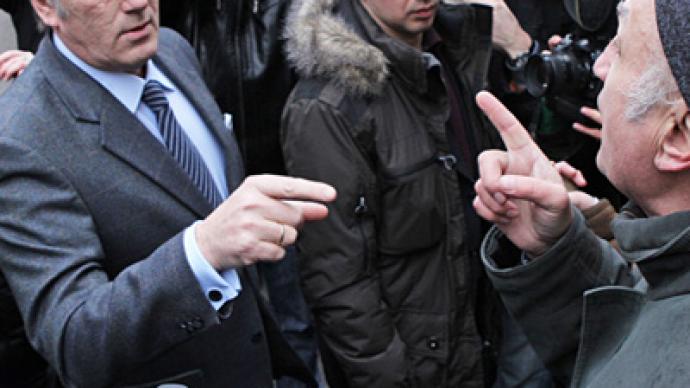 The arrival of the former Ukrainian President Viktor Yushchenko to the Prosecutor General's Office in Kiev, to give evidence in his poisoning case, has turned into an emotional fight with his opponents.
No one minced their words. According to the Ukrainian UNIAN news agency, Yushchenko's opponents were waiting for him at the entrance with posters reading "Shame on Ukraine's traitor" and "We are not your nation". When the former president got out of his car, a protestor started insulting him shouting, "How can you look into people's eyes, you scoundrel!""Stop shouting!" Viktor Yushchenko cut him short. "It's me who gave you the right to say such things."Yushchenko said the man was sent by one of the political parties and was rallying there for money. "So say hello to the party that sent you and give them back the money," he shouted back. This only served to fuel the protestor's anger. He said he did not believe Yushchenko was poisoned by dioxin, just that he simply consumed too much vodka and sushi. "Read quality papers," was Yushchenko's answer, as reported by RIA Novosti. The alleged dioxin poisoning goes back to the time of the 2004 presidential campaign. Yushchenko suddenly fell ill and went to a private clinic in Austria. There he stated he had been poisoned with dioxin. He claimed this happened when he was invited to the cottage of the deputy head of Ukraine's security services Vladimir Satsyuk. Viktor Yushchenko won that presidential campaign and soon after he took office, the Prosecutor General announced the poisoning had been proven. When President Viktor Yanukovich, came to power in 2010, the newly appointed Prosecutor General came up with another version of events. He said the poisoning may never have happened.
You can share this story on social media: