Russia's ruling United Russia party needs real political alternative - Surkov
Published time: 2 May, 2013 18:58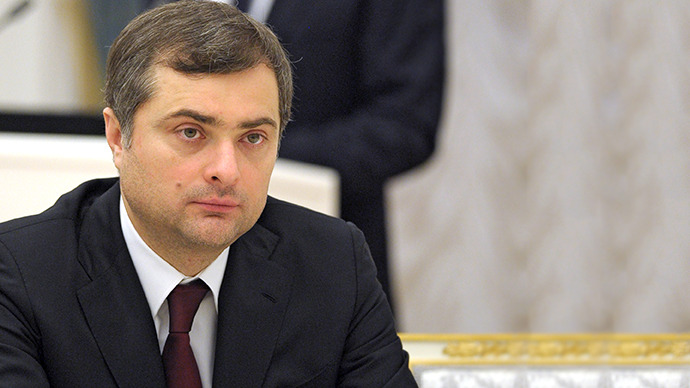 Russia's major political party United Russia needs a rival, Deputy PM Vladislav Surkov has said. United Russia "must exist in a competitive environment," added the politician.
Speaking at the London School of Economics Surkov said, that such a party that can compete with "United Russia" would be useful for the country, ITAR-TASS reports.
"I think that the United Russia party simply has to exist in a competitive environment, it is normal, and now that competition will develop. There is a normal process that reflects the evolution of the society, to the extent in which it took place", Surkov said, recalling that Russia has a "practically free registration of parties."
The Deputy PM assured that the political system of Russia "keeps up with society."
"In Russia we have a political system that reflects the state of the mentality and the soul of the Russian people," – Surkov added.
The Deputy PM, was also asked about the recent corruption scandal at the Skolkovo foundation, where during searches investigators allegedly found evidence of theft of around $750,000.
"Let them prove that these people are guilty of something, we'll see, if they will prove that or not," Surkov said.
The deputy PM said Skolkovo is one of the "cleanest projects" from the point of view of possible abuse.
"For one simple reason, the project is headed by Viktor Vekselberg, one of the richest men in Russia", said Surkov adding that the President of the Skolkovo Innovation Center is so rich that he would not soil himself for the sake of a few hundred thousand dollars.
The Deputy PM admitted that Russia's economy rests on two pillars, the export of raw materials and importing finished goods. The Skolkovo Innovation Center should reverse this situation by bringing Russia into the world market of ideas and innovation, according to Surkov. He also emphasized that only an "open economy" is able to develop, therefore one of the conditions of work in Skolkovo is the presence of foreign partners.
The Skolkovo Innovation Center, or, as dubbed by the mass media 'the science city', is a non-profit organization founded in 2010 during the presidency of Dmitry Medvedev and on his initiative. It's located in the Moscow region and its main objective is to recruit resources capable of conducting modern applied research and creating a comfortable environment for hi-tech companies specializing in such fields as IT, space exploration, energy-saving, nuclear technology and biomedicine.