Prokhorov sues over presidential poll violations - report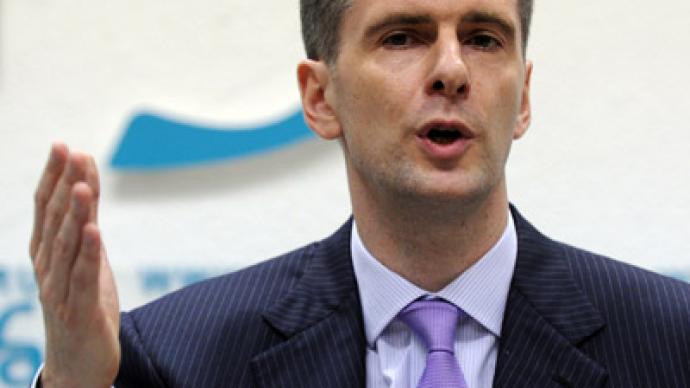 Mikhail Prokhorov has become the first to formally file lawsuits over alleged violations at the recent presidential election in which the billionaire politician came third.
Lawyers from Prokhorov's election HQ have forwarded to courts 50 lawsuits over the results of March's vote, business daily Vedomosti reported, quoting the head of the HQ's monitoring department. The lawsuits contest the elections results in Moscow city, Moscow Region, St. Petersburg, Far East Primorye Region and Ryazan. Prokhorov's supporter told the paper that the HQ had received about 5,000 complaints from citizens over alleged violations during the poll and the lawyers picked the most convincing ones. Most often, these were differences between the data received by election monitors and the official results submitted to the Central Election Commission, as well as questionable situations with making up elections lists and registering results. According to the paper, some cases were extremely strange – such as one in Moscow, when an apartment block of 40 apartments turned into a 194-apartment high-rise in the election documents, and all residents of the non-existing apartments appeared to have voted.A case in St. Petersburg was described as a "ghost polling station" – one that none of the monitors were allowed to enter, but that still received over 2,000 voters.Prokhorov's initiative is the first of its kind, despite the post-election intentions of other opposition parties to sue authorities over alleged violations. At the same time, a lot of complaints were forwarded to the Central Election Commission, which held an investigation and announced that only 135 of 806 complaints had been confirmed. Lawyers say that Prokhorov's lawsuits are not likely to get any results – a positive decision over just one violation could lead to reconsidering the election result in all instances. Prokhorov ran as an independent candidate in the presidential election, coming third with about 8 per cent. After the election was over, Russia simplified the rules of political party registration and Prokhorov said he was founding his own political party that would unite all those who had voted for him. In an interview with Izvestia daily, the businessman-turned-politician expanded on his vision of the new organization and its political plans. Prokhorov said that in post-industrial society, people are less interested in abstract political theories and support those who offer practical solutions to everyday problems. Thus, Prokhorov stressed that he does not consider all kinds of extremists as his allies. Prokhorov also stressed that potential candidates for his party must be ready for practical work, for example, as city governors, and expressed doubt that figures who had gained popularity on the internet only were capable of this. Prokhorov once again said he plans to be an ordinary member of his party who proves his leadership through constant work. At the same time, he admitted that he will be one of the principal sponsors of the new project, though not the only one.