Writers representing street opposition ready to meet Putin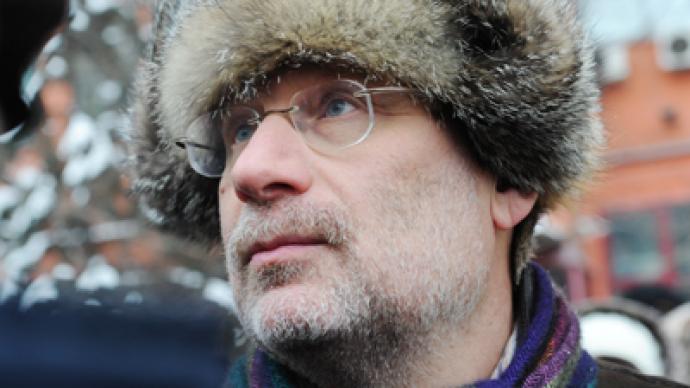 Popular writers Boris Akunin and Dmitry Bykov say they are ready to meet Prime Minister Vladimir Putin if such a move is approved by members of the recently-founded Voters' League.
The announcement was made on Thursday, after Vladimir Putin complained to the media that he had invited the founders of the Voters' League for talks but they never showed up, choosing instead to accuse the authorities of unwillingness to hold a dialogue with the opposition."If Vladimir Putin wants to meet and talk about work, if he is ready for a serious and tough discussion – I see no problems in this. I will with pleasure tell him everything that I think about the situation which has formed in the country," said Boris Akunin, a popular writer, in an interview with Ekho Moskvy radio. However Akunin immediately said that he doubted the prime minister's sincerity. "My hopes that the meeting will really take place are for some reason very slim. I think it is just idle talk. It does not sound like an invitation for discussion," Akunin said.Writer Dmitry Bykov said he was pleasantly surprised by the invitation which was an offer that should not be turned down.However he added that he must first form a consolidated position with his colleagues. Also, in a slightly strange move, Bykov described Putin's invitation as showing "some interest in literature on the part of the authorities," which was hardly the case with Putin's Wednesday statement.Both Akunin and Bykov represent the Voters' League – a public movement founded on January 16 by participants of the mass rallies that took place in Moscow in late December to protest against alleged violations committed by the authorities overseeing the December 4 parliamentary poll. The league stated that its agenda was to ensure that future elections were fair and stressed that it was not siding with any political party.The street opposition are now planning to hold another rally in Moscow on February 4, but so far the city authorities have not approved plans for the protest, saying that the large-scale march would paralyze all traffic and the police would have difficulties ensuring that the protesters and other city residents remained safe. If the rally is not authorized, protesters will hold walks in the city wearing white ribbons as a statement of their position, one of the Voters' League representatives, Yelena Tikhonova, told the press on Thursday.
You can share this story on social media: