Spin-a-war: Spin-a-lord-of-war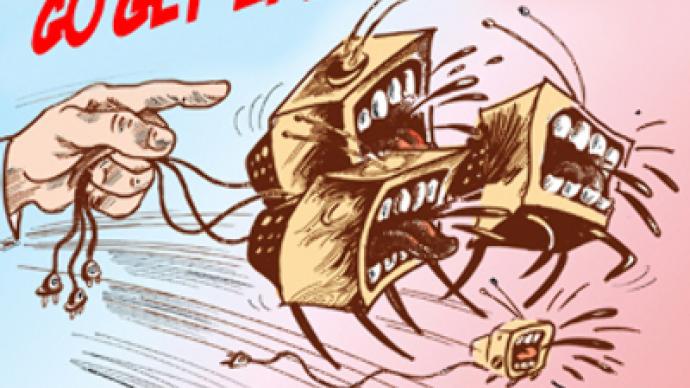 One more session in the year-long hearing of the Victor Bout extradition case ended just a few hours ago.
In courtroom number 909 of the Criminal Court of Thailand a war is being fought: a war between Russian citizen Victor Bout and the United States of America. That is how it looks like at first glance.
In fact, given the lack of evidence presented to the Thai court (supposedly there is evidence kept safely in the US, which cannot be revealed anywhere but in an American court for reasons of national security) and the shaky position of the prosecution (the initial criminal case against Mr. Bout based on the Thai Criminal code – for 'gathering and preparation of materials for acts of terrorism' – was dropped for want of evidence and essence several months ago), the courtroom war in Thailand is actually fought by the US government as a proxy for US and British media and certain officials (American and British), plus several UN employees – i.e. those who are directly responsible for the fame and notoriety of the 'Merchant of Death'.
Victor Bout's defense team insists that these people are also responsible for the actual creation of that figure out of an inaccurate biography, a bunch of unrelated facts and lots of hot air. They say the cost of the US intelligence and law enforcement operation targeting Mr. Bout in US taxpayers' money exceeds the average annual profit of Victor Bout's old airline business by at least five times.
They also say that Mr. Bout's airline operation collapsed in the year 2001 under the weight of UN inspectors' and media accusations of violating the UN embargo on arms deliveries to certain countries in Africa (Bout lost his clientele because of his newly-acquired notoriety), while the media campaign and the actual planning of a US government operation against him started in earnest only in 2002 and reached their peak in 2005-2007. By then, say Bout's lawyers, he had been living in Moscow and was engaged in totally different business projects for at least seven years (Bout moved back to Moscow in 2001 and since then left Russia only four times for a few days each, including his trip to Thailand that ended in his arrest and a year spent so far in the Thai prison).
The information of Bout's lawyers about his life in Moscow in 2001–2008 can be easily checked: Bout didn't see any reason in hiding from anyone there. He lived at his announced addresses and made several live appearances on radio and television. While he was doing that, the Western media were continuing their campaign, accusing him of every un-authored arms delivery in the world, Douglas Farah and Steven Braun were writing their book 'Merchant of Death' and US intelligence and law enforcement agents were reporting sightings of Victor Bout in various parts of the world (under aliases, some of which being names of real men who have no connection with Bout – that has made very angry men indeed out of several of them).
As an illustration I offer here a few quotes from media articles spanning from 2000 to 2004.
Belgian journalist Dirk Draulans wrote the following in the KNACK magazine No.20, published on May 16, 2001. The quote is given in an English translation from the original article 'De Criminele verhalen van de brave soldaat Bout', courtesy of the website www.ruudleeuw.com, which offers an impressive collection of texts on Victor Bout from various media sources:
"Butt is supposed to be officially named Victor Anatoliyevich: that's what an Interpol document states; it is dated Dec 04th, 2000 … 'Our' Victor uses at least five different names and passports from different countries."
According to a Russian passport he is supposed to have been born on January 13, 1967, in Dushanbe, Tajikistan; but he looks a lot older. In eastern Congo he is Victor Butt, manager of the Rwandan-based Central African Airways.
His professional career started, allegedly, as a navigator on the military base of Vitebsk, in what is now Belarus. He trained recruits there later for the GRU: the commando's of the Russian Air Force. He is also supposed to have worked as a translator with the Russian Peace-Keeping Forces in Angola."
Well… Victor Anatolievich it is, but anyone familiar with the Russian language will know that Anatolievich is not a surname but a patronymic. The full name in Russian is: Victor (or Viktor) Anatolievich But (sounds like 'boot'). The spelling 'Butt' never appeared on any of the Russian passports Victor ever received – and he received quite a few of them – not simultaneously, but one after another, getting a new passport every time when the previous one expired or ran out of pages for stamps (that is a regulation of the Russian Foreign ministry: passports are valid for five years only and no additional pages can be included. There are only two spellings on his passports: 'Bout', as in French transliteration, used before 2000, and 'But' which is used since the regulation changed from French transliteration to loose English).
In spite of that journalists and, scandalously, law enforcement and intelligence officials still insist on Butt and Anatolievich as separate aliases of the same man. The fact that he never used two Russian passports simultaneously has also escaped notice. As for foreign passports, Bout insists on having never had one, while his accusers fail to provide evidence that he has.
Bout was never a navigator. He did a 14-month crash-course in Portuguese and was sent to Mozambique, not Angola, as a military interpreter with the rank of junior lieutenant. He came back to Russia three years later in 1991 as a lieutenant (one rank higher) and resigned from the armed forces without finishing his remaining three years of the full course of the military interpreters' institute.
Given such inaccurate data put on a magazine page by Dirk Draulans, it becomes quite clear how the whole Victor Bout spin developed to its current enormity. Recently Dirk Draulans was interviewed by the Russian TV channel NTV, and in the interview he stated that he had been a primary source of information for UN investigator Johan Peleman and also for Belgian police and military intelligence.
And here is what Douglas Farah wrote in the WASHINGTON POST on February 26, 2002:
"According to a UN Security Council report issued in April 2001, Bout is 35 years old. Born in Dushanbe, Tajikistan. He is a graduate of Moscow's Military Institute of Foreign Languages and speaks six languages fluently, according to the report.
The report also describes Bout as a former air force officer who holds at least five passports."
Here we see the five passports again, but at least the bio-data is more or less correct. The following is what Douglas Farah writes about his attempts to reach Bout on the phone in the UAE in 2002:
"Telephone calls and faxes to Bout's offices in the UAE went unanswered. An associate of Bout's there said all of Bout's employees in the Emirates had left. The associate said he no longer knew where they were."
Wouldn't that be logical to check if the man is still in the Emirates and if not, where has he gone? Instead, Farah continues:
"Bout's alleged dealings with the Taliban and Al-Qaeda are the subject of an ongoing, classified US operation that began in early 2000. 'There was a concerted effort at the tail end of the Clinton administration, continued into the Bush administration, to put him out of business,' said one former US official.
UN and US officials said Bout cut a deal with the Taliban in 1996 in UAE, one of only three countries in the world that recognized the regime.
The deal called for Bout's Air Cess to supply and service Afghanistan's Ariana Airways and the Afghan air force, both of which used Soviet-era aircraft.
'Bout undoubtedly did supply Al-Qaeda and the Taliban with arms,' Peter Hain, Britain's minister of European affairs and lead investigator into Bout's global arms trade, told the Associated Press on Feb. 19.
A 1998 Belgian intelligence report on Bout's activities, obtained by The Washington Post, says he made $50 million in Afghanistan, selling heavy weapons to the Taliban. However, Peleman and other investigators said they had doubts that Bout had earned that much money from the Taliban and Al-Qaeda, in part because Bout also supplied weapons to anti-Taliban leaders, some of whom were his close friends."
Right after that Douglas Farah, an honest analyst, mentions a strange escalation in the 'Bout case' which he could not have failed to notice while talking to officials of the US administration:
"In late 2000 the Clinton administration asked the UAE at an 'extremely high level' to shut down Bout's operation, a former US official said. UAE officials responded that they had no evidence of criminal wrongdoing by Bout.
When President Bush took office, the Bout project received less attention, US officials said. Then came the Sept. 11 attacks. 'Suddenly, he was back on our radar screen in a very significant way,' a senior US official said. 'His importance suddenly loomed very large'."
The following quote is from the blog of Kathryn Cramer (posted on May 17, 2004) extracted by this writer from the collection on the website ruudleeuw.com The attitude sown, as well as the information used by the author of the quoted passage seems to be based exclusively on media reports, no matter how accurate they are. It shows how much we all trust written and spoken word:
"The Financial Times has a fascinating story I have not yet seen in any of the US media: US seeks to protect weapons trafficker. It's about a Russian mafia guy, Victor Bout, alleged to be the world's biggest arms trafficker: The US is pressing for a notorious arms trafficker allegedly involved in supplying coalition forces in Iraq to be omitted from planned United Nations sanctions, in defiance of French demands.
Western diplomats say they have been told of reports that an air freight company associated with Mr. Bout, who is subject to a UN travel ban because of his activities in Liberia, may be involved in supplying US forces in Iraq and that the US may be 'recycling' his extensive cargo network.
In 2000, Peter Hain, then British foreign office minister responsible for Africa, described Mr. Bout as 'the chief sanctions-buster and . . . a merchant of death who owns air companies that ferry in arms' for rebels in Angola and Sierra Leone.
A former UN official familiar with the sanctions process said he had also heard of Mr Bout's Iraq connection. The ex-official said he had been told by a reliable source about a month ago that 'the American defence forces are using Victor's planes for their logistics'.
It really is too bad that the US couldn't afford planes of its own and has to rent them from criminals!"
Kathrin Cramer is at least giving the benefit of a doubt to Victor Bout:
"…News organizations around the world, pressing hard to break new stories about Al Qaeda, along with western officials eager to be seen as fighting terrorism may be inflating Bout's significance in describing him as heading 'what some officials call the largest arms trafficking network in the world'. Such claims were never made before evidence emerged linking Bout to the Taliban. And even if true, the mandate of the UN arms investigations – limited to violations of country-specific embargoes – and the nature of the illicit arms trade make it impossible to confirm. Most experts would agree that he is the largest known illicit trafficker in Africa. Beyond that, the extent of his activity is very difficult to pin down."
Let's not forget that these words were written in 2004. By then Bout had been out of business for at least three years.
Not only are the Western media covering Victor Bout's war prone to irresponsibly making factual mistakes with probable legal consequences for the accused. Mere days after a well-balanced report in the Russian NTV channel's PROGRAMMA MAKSIMUM (April 11, 2009) another Russian channel, Moscow TV Center, showed an hour-long documentary, evidently put together in great haste and using nine-month old interviews of Bout's elder brother and lawyer (a sorry attempt at acquiring journalistic legitimacy), which, among other things, linked Victor Bout with illegal weapons supplies to Georgia prior to the conflict in South Ossetia in August last year.
I wonder, who will dare to say that Bout, who has been in jail in Thailand since March 2008, did it!? If someone does, I wish him to spend a good couple of months in that Thai jail and see for himself if running a business out of there is an option.
The Bout case is approaching its conclusion: the final hearing is set on May 19, and shortly after that (no longer than a month later) the verdict will be announced.
I don't know what new media stories about our protagonist may emerge in the next six weeks, but at least one thing is firm: the promise of the Thai government that no political influence from any nation will be allowed in the extradition case, currently in the final stages of consideration by the Thai court.
Evgeny Belenkiy, RT
You can share this story on social media: