Russians' nostalgia for USSR is dwindling - poll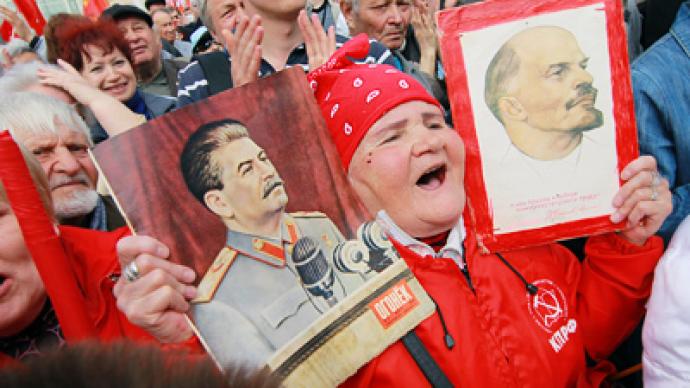 Some 56 per cent of Russians still regret the dissolution of the Soviet Union, according to a poll published on the eve of the 90th anniversary of the foundation of the first Socialist state.
However, this is almost 10 per cent less than a decade ago, a survey by All- Russian Public Opinion Research Center (VCIOM) revealed. A third of Russians do not mourn over the collapse of the Soviet Union 21 years ago. That is 6 per cent more than in 2002.The majority of respondents who feel nostalgic about the end of the Soviet era are those above 45 years of age, with low education level, non-internet users and residents of capital cities of Russian regions. Youngsters, people with higher education and active web users – on the contrary – prefer life in modern Russia. Two thirds of those questioned agreed that Soviet Union furthered the cultural and economic development of peoples that lived on the territory of the country. At the same time, 20 per cent believe that it was the other way round. The state that once united 15 republics dissolved in December 1991, after the leaders of Russia, Ukraine and Belarus signed the document which marked the end of the Soviet empire.Two decades on, over a half of Russians are confident that the collapse of the USSR could be prevented, the pollster found out. Still, 35 per cent stated that it was inevitable.Shortly after the disintegration of the country, people were split on the reasons behind it. Back in 1992, 27 per cent of citizens thought that the communist state was doomed as the transition to democracy began. With the passage of time Russians have changed their opinion: now 45 per cent of people blame politicians for bringing the Soviet empire to an end. On December 8, 1991, the leaders of Russia, Ukraine and Belarus signed the agreement on the creation of the Commonwealth of Independent States. The document known as "The Belavezha Accords" managed to provide for a peaceful disintegration of the USSR. On December 12, 1991, the Supreme Soviet of the Russian Soviet Federative Socialist Republic ratified the accords on behalf of Russia and at the same time denounced the 1922 Treaty on the Creation of the Soviet Union.Several days later – on December 25, 1991 – the first and only Soviet President Mikhail Gorbachev stepped down from office, declaring the USSR extinct.
You can share this story on social media: