Veterans oppose Solzhenitsyn monument, accuse writer of aiding USSR breakup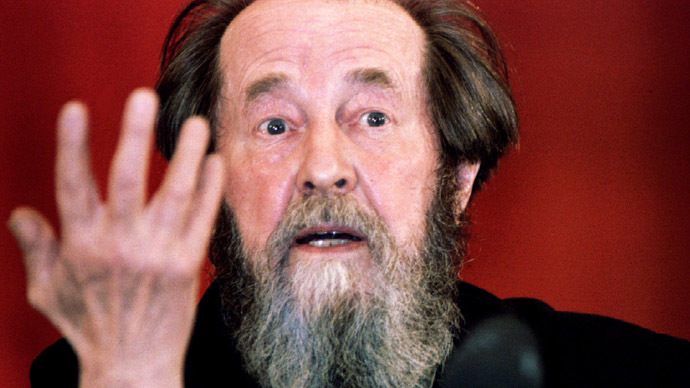 Several veteran organizations in the central Russian industrial city of Togliatti are collecting signatures against a Solzhenitsyn monument initiated by the group 'Victims of Political Repressions'.
According to local radio, the veterans' petition reads that Aleksandr Solzhenitsyn "played a large role in the unjust blackening of our historical motherland, the Union of Soviet Socialist Republics, and his input into the process of USSR's collapse was immense."
The signatures for the petition are being collected on and offline. The local branch of the Communist Party and the relatively young movement Essence of Time are helping in the process.
Essence of Time, headed by former stage director and TV show host Sergey Kurginyan, is promoting the restoration of the Soviet Union on the basis of a union between Communists and the Russian Orthodox Church.
Apart from the promotion of their petition in the mass media, the veterans sent open letters with similar demands to the regional governor, the city mayor and the chairperson of the city legislature.
The initiative to install the monument to the late Nobel Prize-winner Solzhenitsyn in Togliatti was put forward in December last year by the local group uniting the victims of political repressions. When the head of the group first reported the news, she presented it as a fait accompli, saying that the monument would be located in the central park of the city and that the collection of funds for the memorial was already underway.
The activists also asked local authorities to rename one of city parks or boulevards after Solzhenitsyn, but this request was turned down.
Currently there are two monuments to Solzhenitsyn in Russia – one in Rostov-on-Don and the other in Belgorod. Solzhenitsyn, who lived many years abroad after his exile from the USSR in 1974, returned to Russia in 1994 and lived near Moscow until his death in 2008.
The writer is buried on Donskoye Cemetery in Moscow. On the day of his burial, Russian authorities issued a decree on the immortalization of Solzhenitsyn's memory, and the Moscow government renamed Big Communist Street in the city as Solzhenitsyn Street. There are also schools and libraries named after the writer across Russia as well as two museums of his life and work.
Anti-Solzhenitsyn sentiment is nothing new, as the street renaming in Moscow was also met with minor protests. Nostalgia for Soviet times remains strong – a public opinion poll conducted by the Levada Center in December 2013 showed that about 57 percent of Russians regret the collapse of the USSR, while only 30 percent harbor the opposite feelings.
The share of those who miss the Soviet Union is much higher among the older generation: 86 percent among those 55 and older and only 37 percent among those between 25 and 39.
The poll also showed that 53 percent of Russians think that the collapse of the Soviet Union could have been avoided.
You can share this story on social media: