Moscow mayor says Muslim animal slaughter may be sacrificed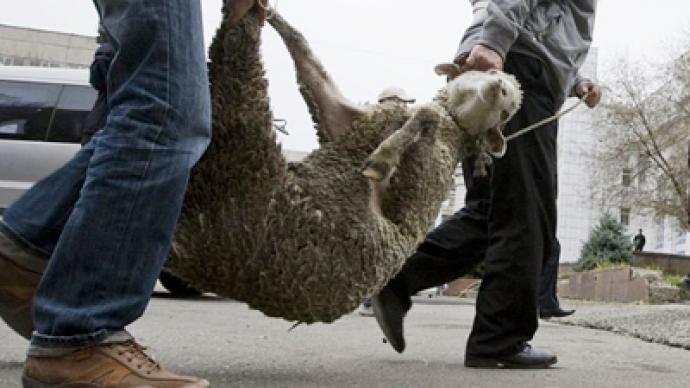 Recently-appointed Moscow Mayor Sergey Sobyanin has called for an end to "bloody and provocative displays" of animal sacrifice to commemorate the Muslim festival of Eid-al-Adha.
Every year, hundreds of thousands of sheep are slaughtered during one of the most important celebrations in Islam. Although Moscow officially banned these sacrifices from public places in 2006, this year the Russian media has published hundreds of photographs of animals being killed, and sometimes left to rot on the streets."I think that neither the Muslim clergy, nor the Muslims themselves want the current situation to continue. I think this is simply a matter of better organization," said the Moscow mayor on Sunday. Last week some of Russia's best-known actors and musicians signed a petition saying that the sacrifices "cannot do anything but shock those not used to cruelty," and said that such scenes are "alien to Russian culture."Eid-al-Adha remembers the story of the prophet Abraham, whom Allah ordered to sacrifice his son to test his obedience. Just as Abraham prepares to follow his instructions, Allah tells him that it is not necessary to kill his son, and that a sheep can be slaughtered instead. During the three-day celebrations, wealthier Muslims traditionally give parts of the sacrificial lamb, clothes and money to the poor. For this year's festival seventy thousand Muslims gathered for public prayer in the center of Moscow.Community Leader Imam Shamil Alayutdinov has denied that Muslims are behind the public killing of animals, and accused the media of Islamophobia. "The Russian media are ready to kill a sheep or a pig themselves and show it on all the TV channels, just to prove that Muslims are behind every problem."The Eid-al-Adha controversy follows the recent outcry about plans to construct a large mosque in the Russian capital. When made public the proposal caused demonstrations and yet another petition, this time sent to President Dmitry Medvedev. Local Moscow authorities have since pacified the concerned citizens by announcing that another place for construction will be chosen.More than one in seven Russian citizens – over 20 million people – is a Muslim, and that ratio is growing fast. Experts suggest that special sacrificial zones may have to be instituted for next year's Eid-al-Adha, or existing regulations for animal cruelty – which include prison sentences of up to two years – will be enforced more strictly. Worldwide practice varies. This year Dubai warned its citizens against public slaughter, while in the United Kingdom, animals can only be sacrificed in a licensed slaughterhouse.
Igor Ogorodnev, RT
You can share this story on social media: