Serbia backs Russia against NATO drills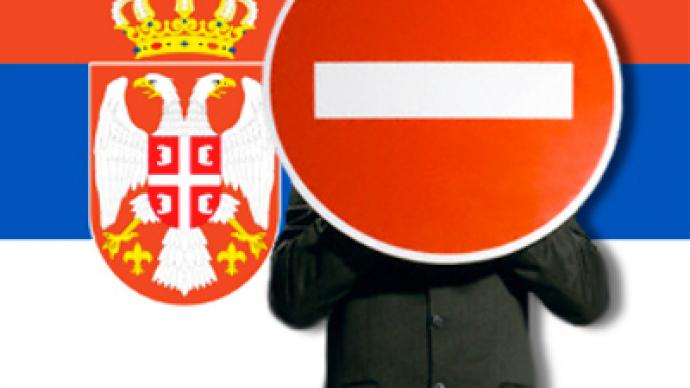 The Serbian Cabinet has confirmed that Serbia won't take part in NATO-led drills in Georgia scheduled for May 6 through June 1.
Earlier in an interview with the B92 TV channel, Serbia's Foreign Minister Vuk Jeremic said: "nobody in Serbia will take part in those NATO-led drills in Georgia. The reason is that Russia said those military exercises pose a threat to its security," reports the Ria Novosti news agency.
On Thursday the Moldovan government withdrew from the maneuvers without explanation. Earlier, the Baltic states of Latvia and Estonia, as well as Kazakhstan in central Asia announced that they were pulling out of the exercises.
It's reported that Riga and Tallinn withdrew due to financial reasons while Astana has not commented on its decision not to take part.
Russia has strongly criticized the upcoming NATO-led drills, officially known as Cooperative Longbow 09/Cooperative Lancer 09. Moscow says the military exercises will further destabilize the region, the scene of an armed conflict less than a year ago.
Meanwhile, NATO still regards Georgia as a close partner.
According to Russia's envoy to the alliance, Dmitry Rogozin, the issue was addressed at the official meeting of the Russia–NATO Council (the first since the conflict in South Ossetia) held in Brussels on Wednesday 29.
"NATO's point of view on Georgia puzzles us, since a major organisation like NATO could definitely show more flexibility. Everybody realises perfectly that there can be no normal relations with an aggressor. Still, there is one message in the final documents of the NATO summit in Strasbourg and in public speeches of NATO executives: that Georgia is an advanced partner who will have their support against all odds," he said after the meeting.
Official co-operation between Russia and NATO only resumed recently after being suspended following the war in South Ossetia.
Rogozin acknowledged that Russia and the alliance "still have serious disagreements over the assessment of events in Georgia" and called on the Council to make a "professional, thorough and unemotional assessment of the events in August of last year".
You can share this story on social media: