Russia can learn from America – Medvedev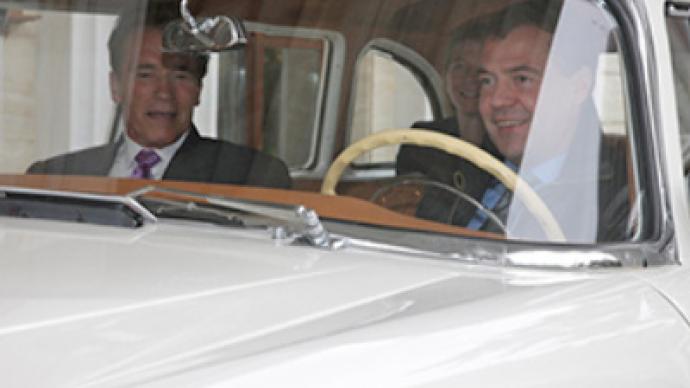 Russia can learn from Americans how to tackle corruption and turn new products into money, President Medvedev has said at a meeting with the US businessmen delegation led by Californian governor Schwarzenegger.
Arnold Schwarzenegger and a bunch of American businessmen arrived in Moscow to take part in the Global Innovation Partnership Forum and to visit the Skolkovo Innovation Center that is being built outside the capital.
Topping the agenda was Russia's innovative potential and the development of Skolkovo. Also known as Russia's "Silicon Valley", it is one of the most ambitious projects that the country has taken in striving to modernize its economy, which now heavily depends on the exports of raw materials.
But without specialists and finance, the projects will hardly be a success. So Russia is now trying its best to attract possible investors as well as scientists to make the Skolkovo dream come true.
During a meeting with American businessmen, President Dmitry Medvedev admitted that Russia has some lessons to learn from its US partners. One of the main obstacles that may scare away businessmen from investing in new projects in Russia – corruption – was also discussed.
"True, corruption is a universal problem, which exists not only in Russia. There is corruption everywhere, but our problem is that we take corruption for granted rather than for something to be ashamed of," Medvedev said, cites Interfax. That is exactly the difference between corruption in Russia and other countries, he pointed out.
"We need to fill this gap," Medvedev said adding that adopting more laws will not solve the problem. "Unfortunately, this is a problem of mentality. We can learn from the Americans, who have not been ideal either and have had different periods in their history, but still managed to cope [with the problem]. We need to do the same," he said.
As for economic issues, according to Medvedev, one of the trickiest tasks for Russia is "the commercialization" of new products and technology. "And that is something we could learn from our American partners and companies that are represented here today," he said. "That, perhaps, is the most difficult and, at the same time, the most important task".
What is also important, the Russian leader noted, is that people should be interested in creating and implementing new technology, "have motivation to be involved in that, and create their businesses from scratch" and to be ready to take risks in order to get profits.
Unfortunately, Medvedev admitted, "far not all Russia's businesses are ready to create risky enterprises".
"We spend a lot more on consumption – much more than we should. And in this aspect, again, we have something to learn from enthusiasts who – not always spending too much money – create principally new products," he said.
Finally, "the climate created for the development of such projects is very important," the president pointed out.
Skolkovo is a completely new idea for Russia, he said, adding that the initiative has both its supporters and opponents. Medvedev said that the initiative is often being criticized as "something to be done in one place only."
"That is not exactly true," Medvedev noted. "The task is to make an example and to show how to work, to create conditions. Further that experience could be implemented throughout the country, using its huge scientific potential."
Medvedev thanked Schwarzenegger for giving the Russian delegation a warm reception in California where the two met back in June this year, during Medvedev's trip to the US.
Thinking back on his visit to America's Silicon Valley, Medvedev said that it was not only the concentration of hi-tech companies and achievements that impressed him, but also the special atmosphere – relaxed and "homelike".
"Probably these are the best conditions for running such businesses," Medvedev added.
Arnold Schwarzenegger enjoyed quite a warm welcome in the Russian capital. President Medvedev invited the Californian governor to his residence in Gorki, outside Moscow. Then the Russian head of state – known for his passion for old cars – gave the American guest a ride in a Soviet-era "Chaika" (seagull) car.
Also recalling their previous meeting with Medvedev, Schwarzenegger said "I told you then that I'll be back" quoting a catch phrase from the Terminator movie, cited Itar-Tass. The Russian leader suggested that Schwarzenegger could not only "be back", but also stay in the Russian capital.
"You happened to arrive in Moscow when the city has no mayor," Medvedev told his guest. He observed that Schwarzenegger's term as the California's governor ends in January. "If you were a Russian citizen, you might have come over to work in Russia," he said, smiling.

From jokes to business, the former Hollywood star, now starring on the political scene, vowed that the US is ready to do all it can, as it is in American interests to facilitate Russia's success.
The potential for growth of Russia's economy, he said, is "extraordinary"
"I mean there are just so many opportunities here in Russia that you just look at this and you say 'Oh my God', it was kind of looking at a goldmine, at a diamond mine…All you got to do is just go in there and get it," he said.

He also praised President Medvedev as one of the "great visionaries" and the Russian people in general as "extraordinary when it comes to ingenuity and technology and science."
You can share this story on social media: