Saakashvili eyes reviving anti-Russian bloc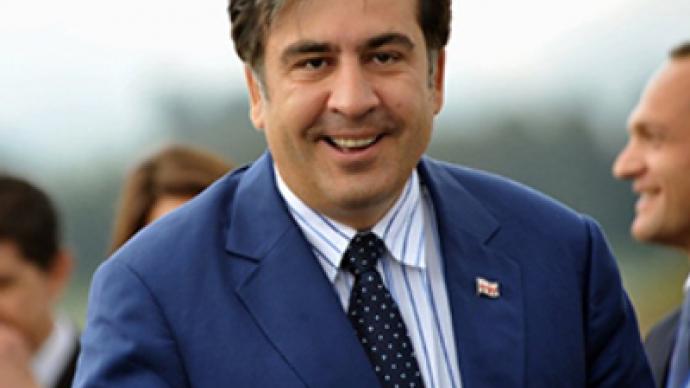 Tbilisi and Chisinau have reportedly agreed to revive the post-Soviet bloc uniting Georgia, Ukraine, Azerbaijan and Moldova (GUAM) which Moscow considers "anti-Russian", writes Kommersant daily.
The decision to breathe new life into GUAM was made during the Acting President of Moldova, Parliament Speaker Mihai Ghimpu's visit to Georgia where he met with his counterpart Mikhail Saakashvili, Russian Kommersant daily writes. Citing its sources, the paper says that Belarus might be invited to become a member of the bloc. Officials, however, refused to comment on the "very delicate" issue. Meanwhile, Saakashvili has already invited Aleksandr Lukashenko to visit Georgia.
The next GUAM summit may take place before the end of 2010, Georgian Foreign Minister Grigol Vashadze told the paper. He assured that the organization's members "have never stopped working on searching for new ways to develop the community."
"The organization is still alive. All the member states are interested in fulfilling economic, energy and transport projects," he said. Among those projects, he added, is the creation of "a south transport corridor, transporting Azerbaijani energy sources through Georgia and [developing] tourism."
GUAM was founded in 1997 at the European Council summit in Strasbourg. In 1999, under the US patronage, the organization was given a new name – the GUAM Organization for Democracy and Economic Development. From that year Uzbekistan was also its member, but later suspended its membership and finally quitted in 2005.
The organization was supposed to be an alternative to the Commonwealth of Independent States (CIS) which unites former Soviet republics. However, in recent years GUAM cooperation on a large scale has almost fizzled out: the last meeting of the quartet presidents took place in 2007. Now the Georgian and Moldovan presidents are striving to change the situation and revive the bloc.
Tbilisi and Chisinau: friends in need
Ghimpu's two-day visit to Georgia did not result in signing any official documents. The paper notes, however, that the fact of the meeting itself is likely to be aimed at demonstrating a warming between Moldova and Georgia.
In addition to having tête-à-tête, Saakashvili showed his colleague the town of Batumi and Anaklia youth camp on the Black Sea coast, which is hosting a group of youngsters from Moldova and Belarus. The two also attended Chris de Burgh's open air concert, which was marked by a slight hitch, writes Armenian news website aysor.com. The singer thanked Saakashvili for invitation to the country and for coming to the concert, adding that he loves Russian vodka and would love to travel to Russia again. Following that he played his famous "Moonlight and Vodka" hit.
Relations between Tbilisi and Chisinau were rather chilly under the previous Moldovan President, Communist Vladimir Voronin, who resigned in September last year. Yet things have apparently changed when the leader of the Alliance for European Integration, Ghimpu, came to power. Saakashvili and the new Moldovan leader seem to have found a common language with at least one thing clearly uniting them – both are known for their anti-Russian policies.
In May this year, Ghimpu refused to come to Moscow to attend the celebrations of the 65th anniversary of the victory over Nazi Germany and demanded that Russia should pay compensation for years of Soviet occupation. Later on, the interim president signed a decree declaring June 28 the "Day of Soviet Occupation".
Saakashvili's relations with Moscow have been frozen since the August 2008 war in the Caucasus which started after Georgian troops attacked the South Ossetian capital of Tskhinval.
Speaking during his Moldovan counterpart's visit to Georgia, Saakashvili said that the "old friendship" between the former Soviet states should not be forgotten, despite political twists and turns, writes Civil.ge.
He said that Moldova and Georgia had same problems and were in similar economic situation.
"We are free countries, we are not completely free from the territorial point of view, because a part of our territory still stays in the old Soviet Zoo, but a great part of our countries [of Georgia and Moldova] is free – it means that we have hope," he is cited as saying.
Would Belarus join GUAM?
According to Saakashvili, Georgia "has brilliant relations" with Belarus.
Considering the latest cooling in Moscow-Minsk relations, it cannot be ruled out that Belarus may replace Ukraine in GUAM, writes Kommersant.
In April this year, President Viktor Yanukovich announced that Ukraine would remain a member of the bloc if the organization conducts pragmatic policies.
"I will raise this issue: if the organization wants to continue to exist, then it should be engaged in solving specific problems and pursue pragmatic policies, not romantic, but pragmatic," he said, cited Interfax.

The question remains, though, whether Aleksandr Lukashenko would want to join the alliance.
Belarusian political analyst Valery Karbalevich believes that the idea to drag Minsk into GUAM is utopia and is just a speculation, writes "Belarusian Partisan". On the one hand, joining the organization Belarus would get no "dividends", Karbalevich said. On the other, it would make Minsk completely lose Moscow's support.
"What is GUAM? Does it function at all? There are quite a few foundations on the post-Soviet space which either do not work at all or work poorly. I believe GUAM doesn't work. So, there is a logical question: what to join?" Karbalevich said.
In addition, he went on, the alliance was set up under the aegis of the US, which means that member-states should follow at least general democratic principles. "But Lukashenko is such an odious case that it is not worth even talking about," he said.
As for intensified contacts between Moldova, Georgia and Belarus, it is quite logical that the CIS states seek developing their relations, the analyst concluded.
Recently Mihai Ghimpu has been invited to pay an official visit to Belarus.

Natalia Makarova, RT
You can share this story on social media: