Saakashvili has put all his eggs into the wrong basket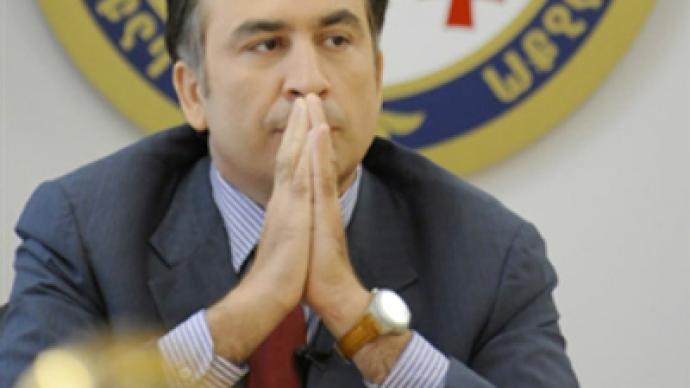 The worst expectations have come true: the process of Georgia's de-sovereignization continues to accelerate and appears irreversible.
The government's unreasonable and clumsy policy has got the country down to the level of a third-rate state which other countries disrespect.

For example, during Saakashvili's recent visit to Baku, at the airport he was met not by "brother Ilkham", or the Speaker of Parliament, or the Prime Minister, but only by one of the Azerbaijani PM's deputies. The majority of countries in the world ignored Georgia's Independence Day on May 26 and, despite common custom, did not deign to send a greeting telegram. And "the true friends of Georgian democracy" from Poland, Ukraine, Lithuania, Latvia and Estonia probably decided not to spoil their reputations completely, and did not dare to appear in Tbilisi.
Georgia's 20-year-long internecine strife for the President's chair has distracted the candidates from the disintegration of the country, surreptitiously organized by geopolitical players who pursue their own interests. In name only, Georgian jurisdiction has so far spread through the whole country apart from breakaway Abkhazia and South Ossetia. But in reality, an increase in the influence and control by distant and close neighbors is tearing Georgia apart. With every new president of the post-Soviet era, Georgia has only lost territory, gaining instead non-committal claims of backing from the USA, the EU, and NATO.
No doubt due to its geographical position, Georgia is on one of the most important strategic trade and economic cross-roads of the Eurasian continent, especially in the region of the Black and the Caspian seas. Due to this fact, Russia, Iran, and Turkey have been arguing about dominance on this bit of land for centuries. Globalization has attracted the attention of other countries with various aims and interests. However, Georgia has not managed to profit from this for the benefit of its national identity and prosperity.
The stereotypical mentality of the country – where all through its history Georgian tsars, then local nobility, succeeding communist leaders and "independent" presidents of the present day of the small and helpless territory were always eagerly looking for a powerful protector – played a bad joke with today's leaders of the country. Having been educated abroad, President Saakashvili ignored the wise sayings of the Anglo-Saxon world:
"the only free cheese is in the mousetrap"
and
"look before you leap".
And the most important one:
"don't put all your eggs in one basket".

Saakashvili and his team preferred the American 'basket' with NATO's 'handles'. As a result, everybody is satisfied and is laughing – all but Georgia. The USA in particular got undivided control over energy resources transit on Georgian territory, by-passing Russia. Americans did not want anything else from Georgia. They tried the strengths of Russian army, cynically using Georgian soldiers as cannon-fodder. And now they have refused Georgia free weapons deliveries, saving the money of their tax-payers.
NATO and the European Union have got tired of coddling extravagant and restless Georgia; they have seen the light and distanced themselves from bold attempts to enter the peaceful community of the Old World. Only due to European good manners do they not upset Georgia with a complete refusal. In Brussels, they wisely and pragmatically decided that it is too costly and hopeless to tame Georgia in its 'recognized' borders. In August last year, Angela Merkel made a Freudian slip talking about 'core' Georgia. As we know from history, its core part consists of Kartli, Kakheti and Imereti which, at the end of the 18th century, became part of Russia. Of course Stalin's constitution, thanks to which the 'core' Georgia has swollen, does not mean a thing to Europe.
The Old World surviving two catastrophic world wars in the previous century values and preserves peace. That's why the Georgian 'tinderbox' causes so much preoccupation and worry. If there is a fire there, the consequences will be felt in Europe, the USA, and Russia. The European Union actively suppresses the militarist initiatives of Tbilisi and recently has urged it to agree to extend the area of control of Abkhazia and South Ossetia's border territories by means of its military observers. According to German newspapers, Brussels thinks that 'now there is no chance of an unexpected Georgian attack on South Ossetia, which last year led to Russia's invasion'.
It's also expected that, by mid-June, the EU foreign ministers will agree on renewing the mandate of the European Union Monitoring Mission (EUMM). The European diplomats think the mission has been a success. Since Russia has recognized the independence of South Ossetia and Abkhazia, Brussels is afraid the European forces will have to stay in Georgia for a long time. To avoid this, the EU diplomats have put up a 'humble objective': making the situation stable enough to prevent any further outbursts of revenge and armed conflicts. As for the policy of reunification, they believe it is Georgia's 'personal issue'.
The party most interested in stability and peace is Russia, and it has been consistently increasing its influence and control over the situation in Georgia. The war in August has brought Moscow two new faithful allies and partners – South Ossetia and Abkhazia. Military bases stationed there can securely hold back any possible encroachments on the part of Tbilisi. Along with the Russian capital's financial intervention into banking, energy, telecommunications and other sectors of the Georgian economy, this, metaphorically speaking, is Moscow's blocking-, if not controlling-, stake in relation to other interested parties. It is enough – for now. All the more so, since Moscow now has mutually-beneficial relations with countries sharing its worries over Georgia's thick-headed attitude. Especially in Turkey, which strives to be the region's leader.
Turkey, it seems, has got its share of the pie: Adjara, where ethnic Georgian Muslims make up one third of the population. The heirs of the Ottoman empire own the airport in Batumi, with its flights included into Turkey's domestic flight schedule. Its expansionist policy is also represented by small sewing factories, agricultural product processing plants and the hotel and travel industry.
Many businessmen from Turkey come here attracted by the fabulously cheap labor. It's worth mentioning that Adjara has a formal status of an autonomous republic which is also part of Georgia. This status is backed by the Treaty of Kars, signed by Russia and Turkey almost a century ago. The treaty is still in full force, and in today's Georgia, Adjara is virtually 'strapped' to Tbilisi.
No-one is 'hacking up' Georgia today – it's the 21st century, after all. However, the Kvemo Kartli region, populated by ethnic Azerbaijanis, is increasingly referred to in Baku by its historical Turkic name, Borchali. The Armenian enclave of Samtskhe-Javakheti is invariably called Javakh in Yerevan.
If politics is only a tool of the economy, then money is much more efficient than guns in maintaining civilized control over territories and resources. Kazakhstan is investing in Georgia big time. One of its assets is United Telecom, a telecommunications giant with a network of 450,000 fixed-line phone users, and an internet service provider.
Kazakhs own the gas-distribution system in Tbilisi, as well as the licenses to search for and use hydrocarbon deposits in western Georgia. The citizens of Almaty have also bought up dozens of the best hotels and resorts in Tbilisi and on the Black Sea coast.
Georgia's permanent financial problems with its foreign trade balance permanently in the red and its enormous foreign debts are forcing it to sell off what it can. Strangely enough, its American and European 'friends' thought it wasn't such a good idea to seriously invest in the real economy sector, and just went for the cherry on top of the pie – the transit of energy carriers. In two decades, Georgia, unlike its neighbors Armenia and Azerbaijan, has not built any major plants or factories, not even a simple assembly-line. Only recently, the country has launched the production of nails – ordinary metal nails – thanks to the efforts of pensioners and retirees from the out-of-action metallurgical plant. Apparently, they were hurt to see the state their country was in.
The Arabs are the real big spenders, on the Tbilisi scale. They've bought up the entire sea port in Poti and a huge plot of land to go with it. They're planning to build a cottage town on the sea coast with 'budget-oriented' villas for only one million dollars each. That's for spending your summer holiday in Georgia's 'fresh climate'.
The Israelis soon followed suit, lured by the low prices on land and real estate and the perspective to build up a solid margin for further re-sale. But they've slowed down now – Georgia is a loose cannon, and it's best not to take any risks.
Iran is also eyeing Georgia closely. It sees Tbilisi as a potential bridgehead for a U.S. attack. But this doesn't stand in the way of more pragmatic interests. Iranian goods, mostly household products, have found their niche on the Georgian market. Low-priced, high-quality detergents and a wide range of plastic goods are gaining the upper-hand over the competition. From a long-term perspective, Tehran is attracted by Georgia's transit potential, mostly along the North-South vector. This can cut transportation costs by one third.
All other regional and geopolitical players have a similar interest, including countries from Asia, Europe and the Middle East. Anticipating future dividends, these players have designed transport routes twisting around Georgia in fancy patterns. The regime in Tbilisi is like a clot in the veins of these plans; a threat to the economic interests of transport carriers and goods manufacturers. If this is properly understood, there will be concerted pressure against Tbilisi. In fact, the process is underway and is gaining momentum. Territorial integrity is not an economic category.
Albert Venalainen
To read the original article,
click
You can share this story on social media: