Skeleton Crew: Russia's Pirate Party admits first rally fail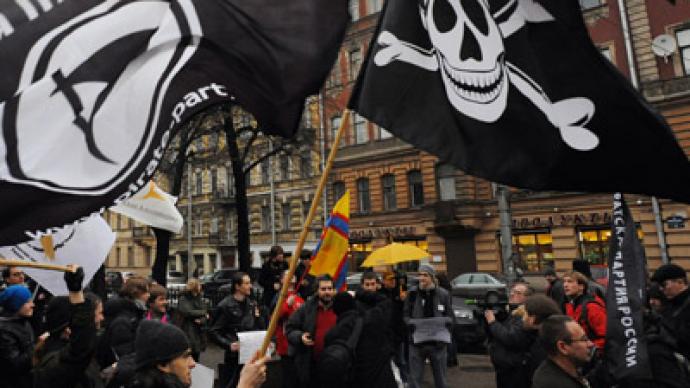 Russia's unregistered Pirate Party has held its first-ever rally in protest of authorities' steps to tighten internet laws and regulations. The organizers admitted the event was a disaster, with only 50 people showing up.
The head of Russia's anti-copyright organization, Pavel Rassudnikov, partly blamed the police for the failure, saying law enforcers did not allow the pirates to fly their flags on poles, only carry them in their hands. The activist also said that the police warned the official organizers of the rally – the leftist Russian Communist Worker's Party – over allowing a different organization to participate in the legal protest event and exceeding the initially announced number of protesters. Rassudnikov claimed that one of the rally organizers was taken to a police station, but this information received no official confirmation.

The yet unregistered Russian Pirate Party is an organization similar to West European parties bearing the same name. It supports all manifestations of digital freedom and opposes copyright limitations on digital content. The rally was held as a protest against the latest initiative of the Russian authorities – creation of the black list of websites that allegedly host illegal content, such as propaganda of illegal drugs or suicide, as well as child porn. The new law allows blocking the content by the decision of supervising body allowing the site owner to contest the decision in court – as opposed to the earlier regulations that only allowed blocking after a court ruling.When the new law came into force, Russian internet users discovered that two extremely popular sites had been blocked – the Russian version of the parody encyclopedia Lurkmore.ru and the top torrent tracker Rutracker.org . Access to both sites was quickly restored, but the fears of the internet public remain.
You can share this story on social media: