Russia's brutal summer inspires green awakening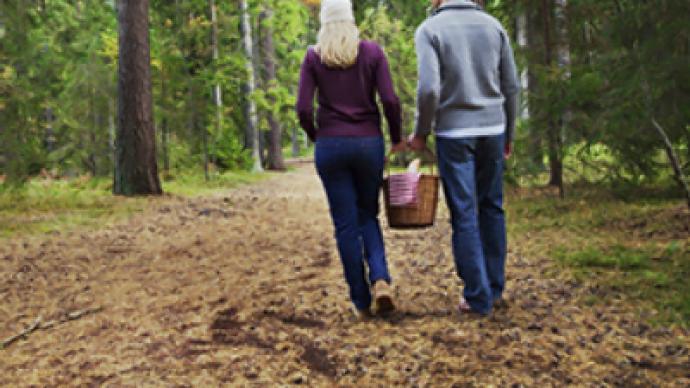 Blame it on this summer's deadly heat wave or political brinkmanship, but Russian leaders appear more willing to provide space for green alternatives.
Before this dreadful summer, talk of climate change and global warming was usually greeted with a cynical smile. After all, there are few places in the world that could use a little "global warming" more than Russia. Or so we thought.
Then, along came a record-smashing heat wave, combined with drought, forest fires and blinding smoke that quickly put to rest the myth that climate change, if it really is a scientific fact, would be a boon to Russia and a bust for the rest of the world. Whether or not recent events have really changed Russia's perceptions on the threat of climate change remains to be seen, but there are some early indications that the devastating effects of this summer's heat wave has shaken up the status quo.
The first sign that Russia might be "going green" came last week when President Dmitry Medvedev made the surprise decision to halt construction of an $8 billion highway that would cut a large swath through Khimki Forest, part of the so-called "Green Belt" that encapsulates the Russian capital.
"Our people, including representatives of the political parties, from the ruling United Russia to opposition ones, as well as public groups and expert circles, say that additional analysis is required," Medvedev announced in a video statement posted Thursday on his presidential blog.
A further sign that the government is serious about protecting Russia's wilds came with the announcement during a working meeting at the weekend between President Medvedev and First Deputy Prime Minister Viktor Zubkov. Medvedev told Zubkov of an executive order that brings the Federal Forestry Agency (Rosleskhoz) under direct subordination to the Government.
The President said that this summer's wildfires revealed weaknesses in forestry management and noted the need for a thorough review of the country's forestry legislation, including the Forestry Code. There is also the issue of refilling many miles of former swampland so that the stifling smoke and smog from stubborn fires never plagues Moscow again – especially with the Sochi Olympics right around the corner.
Meanwhile, activists are chalking up Medvedev's decision to halt construction in the Khimki Forest as a victory in their effort to save the 1,000 hectare (2,500 acre) forest of towering oak and birch trees, which has been dubbed "the lungs of Moscow."
"I think it's time for a celebration already," said Yevgenia Chirikova, a businesswoman who spearheaded efforts to halt the deforestation. "Even if the decision is not final, the very fact that [the Russian president] halted the highway project is a great victory," she said, as quoted by RIA-Novosti.
But it is not just Greenpeace activists that want an end to the ax swinging. Moscow Mayor Yury Luzhkov has also gone on record as favoring an alternative route for the highway that does not require the destruction of a forest that provides recreation opportunities and a "green escape" for the 11 million residents of Moscow, Europe's most populated city.
Some have gone so far as to suggest that Bono, lead vocalist of the popular Irish band U2, who has become as famous for his humanitarian campaigning efforts as for his crooning, persuaded the Russian president to halt the highway project during the band's first visit to Russia last week. This news turned out to be false when Bono himself admitted that he "regretted" not discussing the issue when he had a private audience with President Medvedev in Sochi on Tuesday.
Green for a change?
Given the unprecedented severity of this summer's brutal heat wave and deadly drought, which wiped out millions of dollars of agricultural crops and forced Russia to halt all grain exports, it is tempting to believe that Russia is simply experiencing a change of heart when it comes to the environment.
After all, flourishing green zones, which play a crucial part in Russia's history, are not merely havens for "tree huggers". Besides providing a much-needed break from the urban jungle, they are also attractive investment opportunities if used correctly.
Prime Minister Vladimir Putin has expressed his interest in developing Russia's ecotourism industry as a way of boosting the Russian economy after hearing that US parks earn $14.5 billion a year.
Environmental and Natural Resources Minister Yury Trutnev underscored this untapped source of revenue in Russia when he made a comparison between the number of visitors to Yellowstone National Park in the US, and Kamchatka's Valley of Geysers, the world's second-largest concentration of geysers: Yellowstone attracts 2 million visitors every year, while the Valley of Geysers only gets about 3,000, the minister lamented.
Despite having 211 national parks and nature reserves, these green zones "largely exist to prevent economic activity," Trutnev said. "Environmental education and tourism is performed inefficiently."
Putin agreed to allocate at least 5 billion rubles ($160 million) over the next five years to make Russia's parks and reserves more visitor-friendly with the addition of restaurants, roads and rest facilities that will make Russians and foreigners more likely to visit these largely isolated regions.
At the same time, there are other environmentally-friendly projects that Russia is beginning to tap into, including in the nuclear energy markets, which are expected to surge in the coming years.
Russia foresees a "nuclear renaissance," according to Sergei Kiriyenko, chief executive of Rosatom, the nuclear power-plant builder, and this tendency will allow Russia, a global leader in this field, to reap the associated economic benefits.
Finally, Moscow and Washington have launched what has been called "a joint environmental mega-project." The international conservation park, called Beringia, will be situated on the territory of western Chukotka and Alaska and would be based on Glacier Bay National Forest, which straddles the borders of the United States and Canada.
The Russian side of the park alone could be as large as 1.8 million hectares.
The proposal to establish the Beringian Heritage Park was endorsed in 1990 by presidents of the USSR and the US, Mikhail Gorbachev and George H. W. Bush. The massive wildlife reserve was planned with the idea of "protecting unique regional ecosystem, in particular: aquatic mammals, brown bears, and various types of native birds."
However, after the collapse of the Soviet Union, Moscow became occupied with other issues, and was forced to set aside the project.
Russia's Deputy Foreign Affairs Minister Sergey Ryabkov told Kommersant that Russian President Dmitry Medvedev and US President Barack Obama have decided to revive the 20-year-old project and complete the environmental mega-park.
"The creation of the Beringia National Park on the territory of Russia and the United States is a project that, with little investment, will make it possible to turn the region into an ecological tourism zone. There are plans to establish flight connections, as well as the necessary transport infrastructure," Mr. Ryabkov told Kommersant. "Recently, Russian Ambassador to the United States Sergey Kislyak visited Alaska to address these issues. We, along with the Americans, are currently at the stage of interagency co-ordination. The project has political support. Thus, we are forming a humanitarian-cultural agenda with the United States."
Moscow has also proposed the introduction of a visa-free regime for all residents of Chukotka and Alaska, which currently applies only to the indigenous population of these regions.
Now that is certainly some green thinking, which would spark many economic opportunities for both sides of the border, while protecting the planet's increasingly endangered wild spots from further exploitation.
You can share this story on social media: