Most Russians not inclined to join protests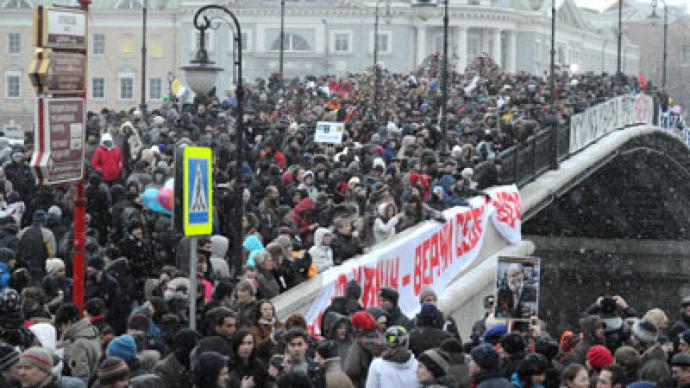 Most Russians are satisfied with the situation in the country and do not plan to take part in protest rallies scheduled to take place across Russia on December 24.
­According to a poll conducted by the Public Opinion Foundation (FOM) on December 17-18 in 43 Russian regions, 54 per cent of those surveyed are not in the mood to protest and have no plans to take to the streets. However, more than a third of respondents, 38 per cent, admitted that they were unhappy with the government's actions. 17 per cent said they would certainly take part in a protest if one were held in their local area.  Another question put by the poll was whether the respondents were aware of the mass rally on Bolotnaya Square in Moscow on December 10. It turned out that 65 per cent of Russians knew about it. The demonstrators adopted a resolution that the results of the Duma elections should be cancelled. Most of those surveyed (40 per cent) did not support this stance, while 26 per cent agreed with it. The document which emerged from the demonstration also contained a demand for the removal of Vladimir Churov, head of the Central Election Commission. This found favor with 23 per cent of Russians, against 27 per cent who do not support the idea.Overall, 52 per cent consider the Bolotnaya Square rally an important event in the political life of the country.On Saturday, another sanctioned rally will be held in Moscow, and similar protest actions will take place across Russia. The organizers plan to reiterate their demand for the cancellation of the results of the December 4 parliamentary poll, which they say were falsified. Over the past two weeks, the Central Election Commission has conducted a series of investigations into the alleged fraud. It admitted that violations did take place but were insignificant and would not have changed the overall election result.