Journalists, HR activists call to lift Greenpeace photographer's piracy charges
Published time: 4 Oct, 2013 09:56
Edited time: 4 Oct, 2013 10:00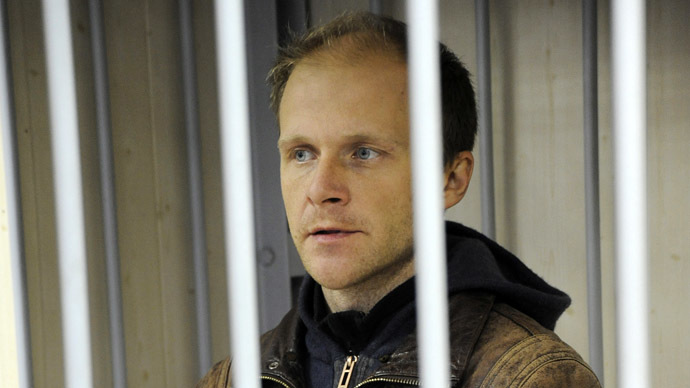 The heads of Russian media outlets and officials from the presidential Human Rights council are calling for photographer Denis Sinyakov not be prosecuted for piracy, as he is a journalist documenting the Greenpeace group who boarded an arctic oil rig.
Representatives of the Presidential HR council called the photographer's detention "a direct violation of the Law on Mass Media." The body's permanent commission on freedom of information and reporters' rights issued a statement that reads that during the Prirazlomnaya platform incident Sinyakov was performing his professional duties and was not an immediate participant in the Greenpeace action.
In September about 30 Greenpeace activists attempted to board the Prirazlomnaya oil rig in the Pechora Sea but were repelled by border guards and security personnel and later detained. They were transferred to the Russian port of Murmansk and charged with piracy – a crime that in Russia could carry up to 15 years in prison.
Denis Sinyakov is a professional photographer who has worked with many Russian and foreign news agencies and media outlets. He arrived to Prirazlomnaya on the Greenpeace ship and was taking pictures of the incident. On September 26 the court ordered Sinyakov's pre-trial detention for two months.
"My criminal activity is called journalism and I will continue to perform it," the suspect said in his court speech adding that he had neither intention nor opportunity to flee from investigators as they had seized his passport.

The heads of popular Russian media have spoken in Sinyakov's support. Chief editor of the Lenta.ru news site, Galina Timchenko, told the RIA-Novosti news agency that the detention was "absolute arbitrariness" and promised to do everything possible to have him freed.
The head of the mass circulation daily Moskovsky Komsomolets, Pavel Gusev, told the agency that Sinyakov's detention was an emergency situation and that he personally was outraged by it. "If Sinyakov has had an official assignment from his media outlet all accusations against him are groundless. They are a violation of reporter's rights and of the freedom of the press," Gusev said. However, the editor noted that if the photographer was working for Greenpeace the situation was more complicated and the state had the right to ask the court to decide whether his actions were lawful.
A senior Russian HR official has said that environmentalists must not seek confrontation with the authorities but attempt to start a dialogue over urgent issues.
The head of the environmental safety group of the Russian Public Chamber, Aleksandr Kazakov told Interfax that he had observed the activities of various environmental groups and came to a conclusion that they were not helping nature. "If we talk about the effectiveness of such moves, I consider it zero," the official noted. "In my view, the environmental organizations must make their main tool the search for a dialogue with the authorities. They must try to impose some environmental standards over the power bodies," Kazakov told reporters.