Russian NATO envoy wants his Motherland back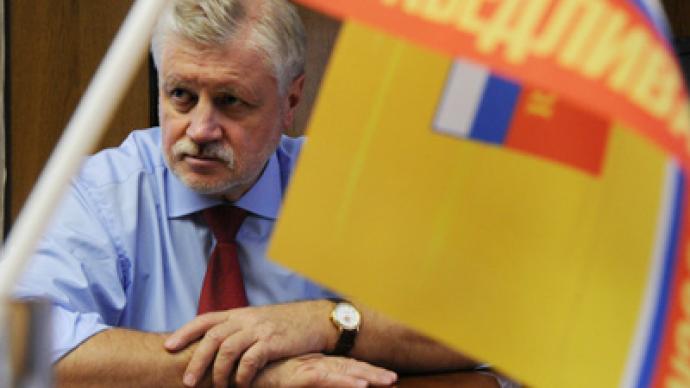 Russia's envoy to NATO Dmitry Rogozin has reportedly accused the leaders of the Fair Russia party of hijacking his old political project, Motherland (Rodina).
According to the Interfax news agency, Rogozin, who was one of the leaders of the Motherland party and the head of its parliamentary faction in the mid-2000s, has claimed that the protocol of Motherland's unification with the Party of Life and the Pensioners' Party had been signed by "little known persons" and thus can be contested. Rogozin left the Motherland party in 2006, reportedly because of the pressure from the authorities who were worried by the nationalist rhetoric, bordering open xenophobia. Rogozin did not elaborate how he would work to get back his party, saying that he needs to consult his lawyers. The agency suggested that he could call for his former allies to quit Fair Russia and join the new political movement.The announcement was made ahead of the convention of the Motherland–Congress of Russian Communities movement – the political project that unites ethnic Russians living in foreign countries. The movement is also headed by Rogozin it was put on hold when the politician was appointed Russia's envoy to NATO in 2008. The head of Fair Russia Sergey Mironov commented on Rogozin's intention with a blunt "he will have to live without it." Interestingly, Rogozin himself wrote on his Twitter account that "wasting Mironov is too small a scale for me" (Rogozin was one of the first Russian officials to start using Twitter and is now doing so extensively, often preferring the microblog to traditional means of communication with mass media).Also on Tuesday Rogozin dismissed the allegation that he could quit his career as NATO envoy for the sake of Russian domestic politics. "In any case, I will find a balanceof interests, which willnot tell on my work as Russia's NATO ambassador, especially on my dutiesas special envoy for talks on missile defense," Interfax quoted Rogozin as saying.Fair Russia was formed in 2006 as a coalition of nationalist party Motherland, the ecological Party of Life and the Party of Pensioners that had socialist incline. On the part of Motherland, the unification protocol was signed by Aleksandr Babakov, who replaced Rogozin as the head of Motherland. In June 2011, Babakov announced that he was quitting Fair Russia and joining the United Popular Front – the public movement that offered parliamentary seats to public figures in exchange for support to parliamentary majority United Russia.