Russian government drafts fresh bill facilitating domestic adoptions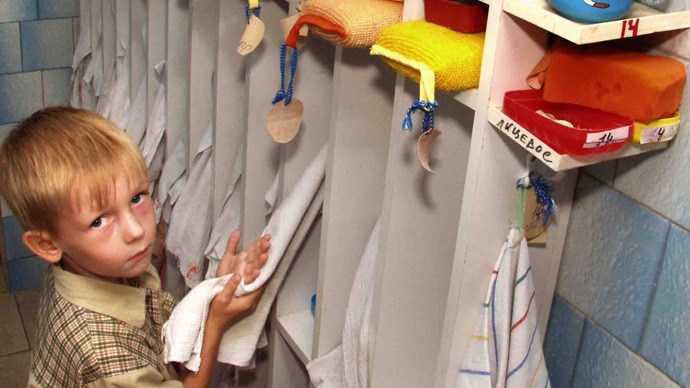 A new bill is being proposed which changes existing legislation on adoption to provide greater support to adoptive parents and more control over orphans' rights.
The draft law was prepared in accordance with the decree "On state policy for protecting orphans and children deprived of parental care" signed by President Vladimir Putin in late December 2012. The government said in a press release their main objective was to improve the legal, organizational, and psychological support of those who plan to adopt orphans and also to offer greater support to families that are already raising adopted children.
The sponsors of the bill claim the planned amendments would trigger an increase in internal adoptions.
The new amendments will change the part of the Russian Family Code that lists possible adoptive parents, and the part of the Civil Code and the Federal Law on Foster Care that details the powers of state agencies and the types of aid that can be rendered to families with adopted kids.
The bill also gives adoptive parents the right for additional tax benefits that increase with every new adoption and are much larger if parents choose to adopt a disabled child.
Russian officials started a campaign to boost domestic adoptions after the public discussion and eventual approval of the Dima Yakovlev Law that sparked a controversy. The law is aimed at punishing US citizens who violate human rights; among other measures it banned all adoptions of Russian kids by US citizens and by proxy of US agencies.
Russia blamed the unwillingness of US law enforcers to cooperate with Russian consular services in the cases of ill treatment and sometimes even murder and manslaughter of adopted Russian children by their adoptive US parents. According to the Russia-US interstate agreement on adoptions (that will remain in force till the end of the year) adopted Russian children retain their Russian citizenship and therefore the Russian authorities remain in charge of their fates.
The supporters of the adoption ban also said the measure would attract public attention to the problem and boost domestic adoptions, especially when paired with measures offering state support to adoptive families.
US side cited the particularities of the legislation in separate states and repeatedly asked not to politicize the question.
In Russia the opponents of the US adoptions ban said that this measure would deprive too many orphans of a chance for a better life in newfound families, especially if these children were sick or disabled. The US has been ranked as the number one foreign country to adopt Russian children for many years.
Since the adoptions ban came into force Russian children's rights officials learned about more cases of alleged abuse that ended in the deaths of adopted Russian kids. The country's top law enforcement agency started criminal cases into the incidents and the probe is continuing.

You can share this story on social media: