Russian MPs suggest funding orphanages with luxury tax revenue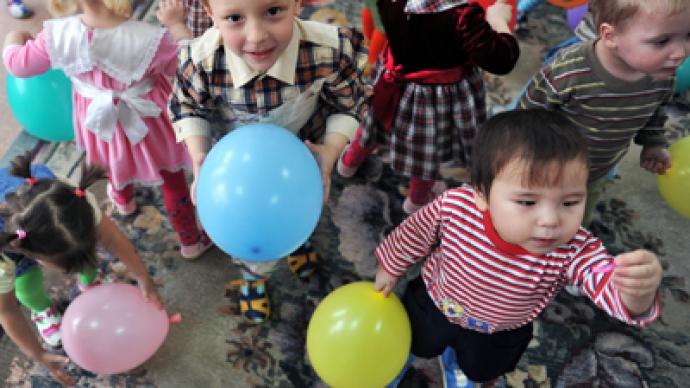 After approving a ban on US adoptions the Russian Lower House started to ponder measures to improve the life of orphans in Russia, such as using money from the future luxury tax.
The suggestion was made by members of the parliamentary majority United Russia at the first session of the sub-committee looking at how to solve the problems of orphans, the head of the Duma's Social Policy Committee, Andrey Isayev, told the press. President Vladimir Putin said in his address to the Federal Assembly that Russia should introduce a luxury tax in the first half of 2013. In particular, it can take the form of additional taxation of luxury real estate and automobiles, the President suggested. Finance Minister Anton Siluanov has promised to prepare legislation before the start of the Spring parliamentary session. However, Siluanov told reporters that he understood the luxury tax is not as a separate one, but is a change in various tax rates. Forwarding the revenues from luxury tax to help the orphans could help in collecting it, MP Isayev told reporters after the committee's meeting. He said that the payers of the luxury tax would try to evade it, but it would be more difficult for them from the moral point of view when they know the where the money would go. The head of the Lower House's Budget and Tax Committee, Andrey Makarov, has said that he expected the amendments introducing the luxury tax to be submitted and approved during the coming Spring session. Last week, the State Duma approved the so called Dima Yakovlev bill – Russia's reply to the US Magnitsky Act which, along with other measures, completely bans US citizens and organizations from taking any part in the adoption of Russian children. The bill has yet to be approved by the Upper House and signed by the President, but both have offered their support to the adoption ban. Russian society and some of the top officials, however oppose the move, saying that it was targeting innocent would-be adoptive parents and eventually would harm Russian orphans. One of popular newspaperscollected 100 000 signatures in support of revoking the amendments and passed them to the State Duma – according to Russian law, any move with such public support must be considered by parliament. Advocates of the ban, however, remained firm saying that the ban on adoptions was targeting the US justice system that was treating cases of cruel treatment and even manslaughter of adopted Russian children with leniency. In particular, the death of two-year old Dima Yakovlev, whose name was given to the bill, resulted in a two-year suspended sentence to his adoptive father (the man left the boy in a locked car in hot weather while at work for the day and the child died of heatstroke).
You can share this story on social media: