Russian NGO questions 'Foreign Agents' law in Constitutional Court
Published time: 13 Aug, 2013 13:23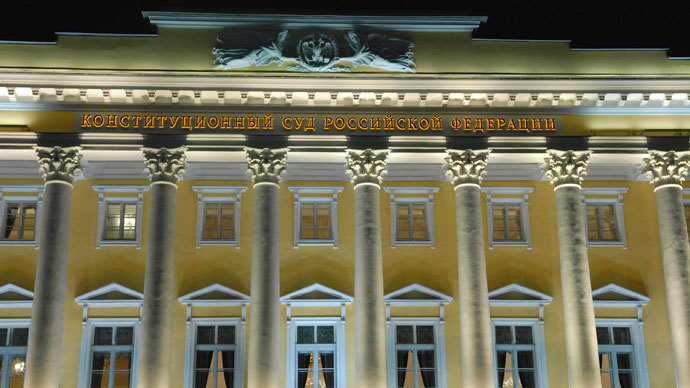 Activists claim the law, which brands non-governmental agencies (NGOs) funded from abroad as "foreign agents", contradicts the Constitution and has been interpreted too freely by prosecutors, causing abuse and injustice.
A district court in the northern Russian city of Kostroma had previously found the group "Kostroma Center for Civil Initiatives" guilty of violating the Foreign Agents law, which requires any NGO engaged in political activities and receiving funding from abroad to register as such.
A local magistrate ordered the group to pay a 300,000 ruble fine (roughly $9000) and its executive director Aleksandr Zamoryanov to pay 100,000 rubles (about $3000).
The Center appealed the ruling, but on Monday the local court upheld the verdict, prompting activists to once again appeal the case to a higher legal authority.
The chairman of the NGO, Nikolai Sorokin, told reporters on Tuesday that his organization asked the Constitutional Court to clarify the exact definition of "political activities" that is mentioned but not explained in the law.
The activist added that his center was only "acting in the interests of Kostroma Region" and did so regardless of the sources of funding in various projects.
"If we are anyone's agent we are the agent of the residents of Kostroma Region. We have never been engaged in political activities," the RIA Novosti news agency quoted Sorokin as saying.
The widely circulated daily Kommersant published an extract from the complaint, which stated that the Law on Foreign Agents contradicted the articles of the Constitution which guarantee Russian citizens equality before the law, the freedom of expression, the freedom of membership in organizations, the right to participate in the governing of the state and the right against self-incrimination. 
The lawyer who represents the group told the newspaper that the obligation to accept the label of a foreign agent is humiliating for rights activists and forces them to stop defending their beliefs.
"Organizations are facing a choice – either they close or they admit that they are almost enemies of the state," Ramil Akhmetgaliyev noted.
He added that his clients would most likely close their group and continue to work as an unregistered organization.
Answering to a wave of criticism both at home and abroad after the law was passed a little over a year ago, the sponsors of the bill have stressed that foreign agents had equal rights with other Russian NGOs and the sole task of the new rule was to inform Russian voters about the possible motives of various participants in the political process.
In March, prosecutors and the Justice Ministry launched a nationwide inspection to determine if the new law was being duly observed. The mass inspection, which uncovered several cases in which the law was being violated, incited further protest from activists and also some foreign governments.
Several groups, including Russian branches of Amnesty International, Human Rights Watch and Transparency International, filed complaints saying that the prosecutors' actions were illegal. The court hearings into these complaints have yet to be concluded.