Key change in ballad of East versus West?
Published time: 7 Sep, 2012 14:19
Edited time: 7 Sep, 2012 20:34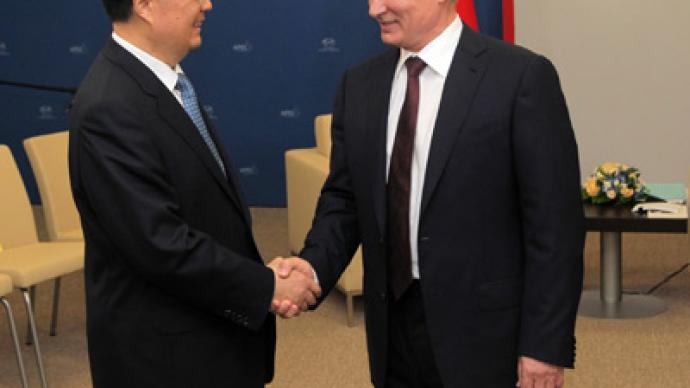 With Russia playing host to the APEC Summit in the Far East city of Vladivostok, the country's ability to work between East and West has never been more obvious.
With the sprawling Russian landmass straddling both the European and Asian continents, the country is in an ideal position to forge partnerships with East, West, or both at the same time. Or, in the case of a political breakup, Russia is able to shun one partner for another.

Increasingly, the latter scenario seems to be emerging, as Russia and the West fail to eye-to-eye on a growing number of geopolitical matters.
In Syria, for example, rebels have been engaged in a protracted campaign to overthrow the government of President Bashar al-Assad. In an effort to quell the violence, Russia and China are pushing for the Kofi Annan plan, which demands that both sides enter into a ceasefire and head to the negotiating table.
Although this sounds like a fairly reasonable way of handling the crisis, Western governments, following Washington's lead, are demanding that Syria's government forces throw down their weapons, while not making similar demands on the militant opposition.
Yet it is Russia that is getting hauled over the coals for its stance.
In July, US Secretary of State Hillary Clinton said Russia and China will "pay a price" for supporting the Syrian regime.
"I do not believe that Russia and China are paying any price…for standing up on behalf of the Assad regime," Clinton said. "The only way that will change is if every nation represented here directly and urgently makes it clear that Russia and China will pay a price."
Russia has repeatedly stressed that it does not support one side or another in the Syrian conflict and that only the Syrian people can decide on their future.
Speaking earlier to RT, Foreign Minister Sergey Lavrov said that Moscow "cannot accept a policy that would be aimed at changing regimes from the outside."
"We strongly support political dialogue and efforts to stop the violence," he stressed.
President Putin warned that if the Assad government is overthrown, civil war in Syria may continue indefinitely.

If the Syrian authorities are displaced, "they will simply change places with the opposition and this will cause a civil war that will continue for no one knows how long," the Russian leader commented back in July.
Moscow, which is strongly opposed to foreign intervention, insists both parties of the conflict should take part in the settlement process.
The deep divergence of opinion on Syria, however, is just the tip of the iceberg as far as East-West relations go.
Case in point is Iran, which the United States and Israel say is attempting to develop a nuclear weapon under the guise of a civilian nuclear energy program. Tehran vehemently denies the charges. Yet despite these denunciations Israel is rumored to be planning a military attack to destroy Iran's nuclear plants, a move that will certainly have dire consequences far beyond the Middle East.
Moscow remains one of the sane voices in the showdown, calling for a new round of talks between the six international mediators and Iran.
"Concrete talks are underway," according to Deputy Foreign Minister Sergey Ryabkov. "We are holding meetings with and without Iranian participation. Telephone and email contacts are maintained."
Russia's work with Iran, however, is not without some constructive criticism.
"We cannot discount what Iran has done in terms of cooperating with the International Atomic Energy Agency (IAEA), but we believe they could make additional steps," the Russian diplomat added.
Last but not least are US plans to drop a missile defense system in Eastern Europe territory. Russia has warned that without its participation in this project, which Russia views as threat to its national security, the world will be confronted by "another arms race."
Meanwhile, the US refuses to provide legally-binding guarantees that the European missile defense system would not be targeted against Russia.
In addition to major disagreements on geopolitical issues, the West has a way of rubbing the Russian bear's fur the wrong direction over domestic affairs. From Pussy Riot to the Magnitsky List, Western governments feel compelled to meddle in Russia's internal affairs.
When all of these factors are taken together, it is not difficult to see how Moscow, finally exasperated by efforts to form an equal partnership with the West, could start looking to building relations with its Asian neighbors.
Without mentioning tensions with the West, President Vladimir Putin, reminding his audience that China is Russia's largest trade partner, said Russia is ready for cooperation with China "in all directions."
"Last year, bilateral trade exceeded $83 billion," the Russian leader said, noting that the increase in trade jumped 42 per cent last year and 14 per cent for the first half of this year.
"Investments are a very important trend of our cooperation," the president continued.
He noted that at a meeting with Chinese President Hu Jintao they "discussed in detail what had already been done and what else can be done."
President Hu Jintao – who heaped praise on Russia's efforts to host the summit as a sign of the country's "great development potential" – was the first foreign leader to hold bilateral talks with Putin.
Meanwhile, the United States will be represented in Vladivostok by Secretary of State Hillary Clinton, who is standing in for Barack Obama as the president is busy campaigning back home for the upcoming presidential elections in November.
Dmitry Peskov, spokesman for the Russian president, told reporters Putin will meet with Clinton "in the corridors" of the APEC summit, even though no special bilateral meeting is planned between them.
"We are sure they will have an opportunity to talk about some sharp issues," Peskov said on a Putin-Clinton meeting on the sidelines of the summit.
Clinton is expected to have substantive discussions with Russian Foreign Minister Sergey Lavrov tomorrow, Peskov said.
In expressing his enthusiasm for the talks in the Russian port city, President Putin had this to say:
"Residents of Vladivostok have waited for those bridges since 1903…as far as Vladivostok is concerned, it was a closed city. It's a naval base. Essentially, little was developed here.
"A new Russia, a modern Russia behaves and will behave differently."
Now it will be interesting to see how Russia behaves toward the East and West in view of the geopolitical situation.