Russia-US reset cannot last forever – Lavrov
Published time: 3 Oct, 2012 10:26
Edited time: 3 Oct, 2012 14:35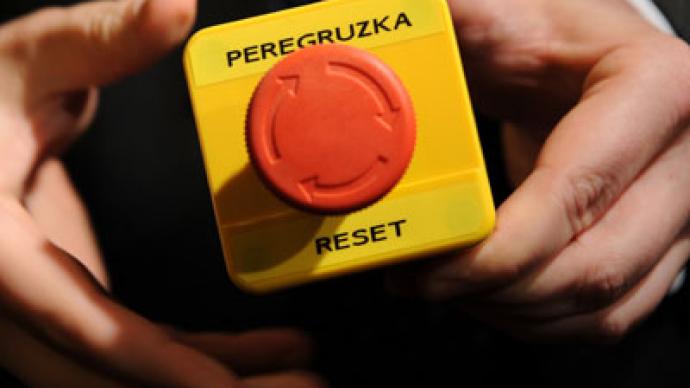 Moscow and Washington must do more to strengthen relations otherwise the bilateral "reset" will suffer a malfunction, Foreign Minister Sergei Lavrov said in an interview published on Wednesday.
America's declaration of a reset in relations with Russia, symbolized by a little yellow box presented to Lavrov by US Secretary of State Hillary Clinton in 2008, may be heading for a malfunction.
"If we talk about the 'reset', it is clear that, using computer terminology, it cannot last forever," the Foreign Minister told Kommersant in an interview. "Otherwise it would not be a 'reset' but a program failure."
Lavrov said it was less important to "name this or that particular stage" than to think about "how to develop our relationship."
Using the terminology of computers, we should "update the software," he added.
Even before US Republican presidential challenger Mitt Romney described Russia as being America's "number one geopolitical foe," Russia-US relations were in something of a holding pattern. A bit like an airplane circling the runway in anticipation of the storm clouds clearing.
The main irritant in the reset has been the Obama administration's refusal to cooperate with Russia over the US missile defense system in Eastern Europe. Moscow, which considers the system a real security threat, has warned on numerous occasions of another arms race if a compromise is not forthcoming.
America's rationale for not cooperating with Russia goes something like this: Washington wants to build a (unproven) missile defense system, which would alienate a major partner in the war on terror (Russia), not to mention spark an arms race, to guard against what may be an imaginary enemy (Iran). Go figure.
Meanwhile, the so-called Arab Spring seems to be heading for less balmy conditions as the question of how to resolve the crisis in Syria continues.
Russia, which has warned NATO in the past about foreign entanglements, says it would not support efforts to topple Syrian President Bashar al-Assad. Instead, Moscow has thrown its support behind the Kofi Annan peace plan, which requires both sides of the conflict to respect an immediate ceasefire and enter into negotiations.
As Russia views the situation, there are two ways of resolving the Syrian conflict.
"If the main priority is to save peoples' lives, then it is necessary to carry out what was agreed upon in Geneva at the end of June; that is, make everyone stop shooting and sit down at the negotiating table," he said
On the other hand, if the main priority is to topple the regime of Bashar al-Assad, then "we can't help in any way."
Lavrov stressed that any outside support of one of the conflicting sides in Syria would "instigate the continuation of the fratricidal war."
The price that will be paid for the current "obsession with the geopolitical goal of changing the Syrian regime will be hundreds and thousands of lives of those very Syrians," he said.
Lavrov lamented that Russia's western partners are "not prepared to put the lid on their own plans."
The Russian diplomat is holding out hope that the reset will be revived following the US election.
"It is evident that some important things will have to be postponed until after the election marathon in the US," he noted. "The electoral rhetoric beyond the ocean will soon subside to give way to meticulous day-to-day work."
We are ready for that work, Lavrov concluded.