Russia responds to US campaign-season mudslinging
Published time: 26 Oct, 2011 13:56
Edited time: 27 Oct, 2011 13:09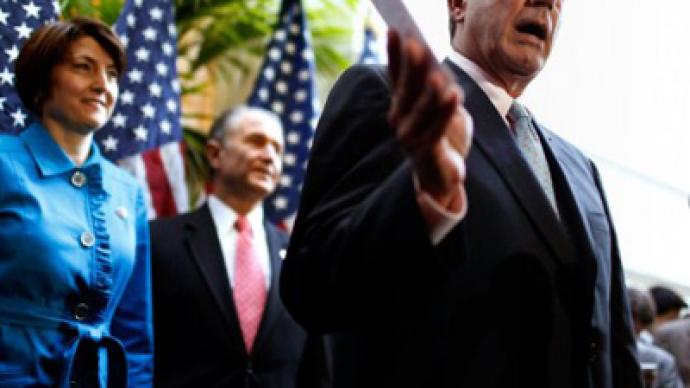 Foreign Minister Sergey Lavrov responded harshly to comments made by US Republican John Boehner, who wants to add Russia to the 'list of nations' that are of concern to the US.
As Washington's dual-party power monopoly stocks up ammunition for next year's presidential elections, the Republicans went on the offensive against President Barack Obama and his reset plans with Russia.
In a speech to the right-leaning Heritage Foundation, Republican House Speaker John Boehner regurgitated warmed-over clichés in an attempt to connect Russia with its Soviet past.
"In Russia's use of old tools and old thinking, we see nothing short of an attempt to restore Soviet-style power and influence," Boehner said.
The prominent Republican then betrayed his flawed understanding of life in modern, democratic Russia, and how it has moved light years beyond the Soviet days.

"Within Russia, control is the order of the day, with key industries nationalized, the independent media repressed, and the loyal opposition beaten and jailed," Boehner said. "Russia uses natural resources as a political weapon. And it plays ball with unstable and dangerous regimes."
Boehner's tirade against Russia did not stop there, as he sent a message via Twitter, the social media network, saying that Russia should be added to the list of countries that are of particular concern to the US.
Lavrov responded to US Republican's comments, saying Washington should raise questions directly and not play a "game of lists" with Russia.
"We have quite a few concerns about the activities undertaken in the United States," Lavrov said. "But, we express our concerns not through a game of lists, which recently is increasingly preferred in Washington, but by means of putting direct questions as we used to do, for example, in connection with the developments in Libya and around it and measures taken by the North Atlantic Alliance."
Lavrov then mentioned Washington's less than perfect record of upholding international law.

"Our concern, above all, pertains to the importance of preventing increasingly new violations of international law and…violations of the UN Charter," he said.
The Russian Foreign Minister then reminded his US colleagues that there were "other channels" for addressing grievances between parties.

"If our partners have questions, we'll be very glad to answer them and we'll be ready to discuss them,"
Lavrov said.  
"For this there are channels between Moscow and Washington – contacts between the executive bodies of power and between the parliaments,"he said.
Lavrov then reminded that the US Committee of Foreign Affairs has been avoiding making contacts with the Russian Duma.
"By the way, the U.S. House of Representatives has the Committee on Foreign Affairs, and the chairman of  this committee over the entire period of her service in this office has been avoiding contacts within
the framework of the format of regular meetings between the House's Foreign Affairs Committee and the  Russian State Duma, which has been agreed upon long ago," he added.
Although Boehner's remarks were really meant to damage Obama's reputation in the run-up to the 2012 presidential elections, Russia once again is getting tossed under Washington's campaign bus as relations between the Democrats and Republicans – as the Tea Party and Occupy Wall Street protesters colorfully demonstrate – continue to deteriorate to historically low levels.
Russia has long served as a lightning rod for attracting US public attention away from more explosive domestic issues. Thus, Boehner blatantly ignored the bilateral progress made by Obama and his Russian counterpart, President Dmitry Medvedev, which include a historic arms reduction treaty, lucrative energy deals, as well as major agreements connected with the war in Afghanistan.
In fact, the Republican's unilateral sniping could have more to do with Russia's preponderant position on the global chessboard, which the United States increasingly believes it owns.
Boehner mentioned Russia's "behavior" in relation to former Soviet satellites like Georgia, the Caucasian country that launched a full-scale military offensive against Russian peacekeepers and innocent civilians in South Ossetia on August 7, 2008, thus triggering a brief and brutish war.
Meanwhile, the Republican House Speaker also called for Moscow to "stop interfering" with attempts by the US to "reign in Iran," which the United States and Israel say is secretly attempting to acquire nuclear weapons.
"We should do more to compel the Kremlin to curtail its relationship with Iran, particularly related to its nuclear program and missile technology," Boehner said.
Again, Boehner's comments have no relation to the reality.
Just last year, President Medvedev cancelled plans to deliver S-300 air defense systems and a host of other major arms to Iran, citing its adherence to a UN sanctions regime imposed on the Islamic Republic. The contract would have brought close to $1 billion to Russian coffers.
The Obama administration defended its relationship with Russia, as well as the initiatives that are just beginning to take root thanks to the reset initiated between the two former Soviet-era rivals.
White House National Security spokesman Tommy Vietor said the Obama administration has "succeeded in supplying our troops in Afghanistan, sanctioning the Iranian regime, achieving the landmark new START Treaty, and securing nuclear materials from terrorists, while we have remained unwavering in our commitment to democratic principle and our support for European security."
Meanwhile, State Department spokesperson Victoria Nuland says Moscow has been helpful with Iran.
"We've had progress together in tightening sanctions on Iran and this continues to be a subject in our bilateral dialogue… what we can do together, what we can each do to tighten the economic noose on Iran," Nuland told reporters.
Clearly, the mudslinging season has arrived once again in the United States, and it has not spared Russia.
­