Russia assumes UN Security Council presidency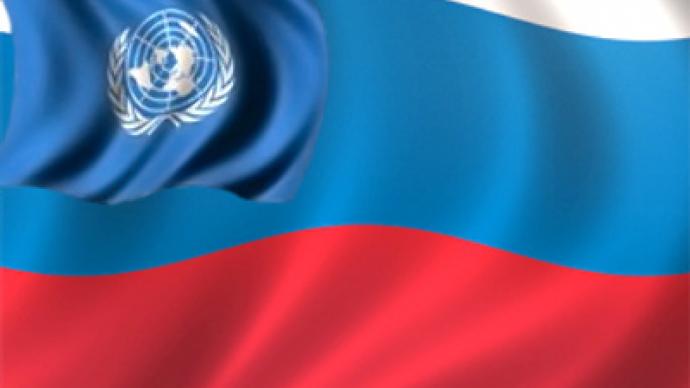 The issues of Kosovo, Middle East, piracy and the UN peacekeeping missions are on the agenda of Russia's presidency of the UN Security Council, which began on Sunday and will last till the end of August.
Vitaly Churkin, Russia's Permanent representative to the UN, took over the rotating presidency from Nigeria's Ambassador Joy Ogwu. On Monday, Churkin will hold bilateral meetings with his colleagues to agree on the plan of work for the next month. The following day, the document will be officially endorsed, writes Itar-Tass. After that, the Russian diplomat will brief journalists on what exactly will be on the agenda in August.
According to Russia's Foreign Ministry, the country's month-long presidency at the Council is going to be rather eventful in terms of problems to be discussed. There will be four large blocks of issues – Kosovo, Middle East, African problems, including piracy and UN peacekeeping – the ministry said, in a statement published on its official website.
On August 3, the Security Council will hold a meeting on Kosovo issue. Serbia's Foreign Minister Vuk Jeremic is expected take part in the gathering.
"The discussion of the UN Secretary General's report on the UN mission's activities in the province will take place during a crucial period for the future of the region, as well as for the entire system of international relations – only two weeks after the UN International Court passed its consultative judgment on whether Kosovo's declaration of independence, adopted on February 17, 2008, was consistent with the international law," the statement reads.
The International Court of Justice, ICJ, gave its assessment only to the declaration underlining that it did not consider the issue of Kosovan Albanians' right to self-determination and unilateral secession from Serbia, the ministry said. Also, The Hague court "did not give its answer regarding the consequences of the adoption of [the declaration], in particular whether Kosovo is a state and whether the recognition of its independence by some countries was legal."
The Russian Foreign Ministry has reiterated that Moscow's stance on Kosovo has not changed.
"Our principle approach to the Kosovo issue has not changed and is based on the acknowledgement of the territorial integrity and sovereignty of the Republic of Serbia, and the necessity to rigidly observe the UN Security Council Resolution 1244," the ministry stated. The document, the body underlined, remains a legally-binding international basis for the Kosovo settlement issue, as well as providing security in the region and not recognizing Kosovo's unilaterally-proclaimed independence.
The Security Council consists of 15 members, including five permanent – the UK, Russia, China, France and the US – and ten non-permanent. The presidency of the body lasts for one month and is held in turn by the members in the English alphabetical order of their names.
You can share this story on social media: