Russia advises US and EU to hold their horses on Syria
Published time: 19 Aug, 2011 10:41
Edited time: 19 Aug, 2011 18:22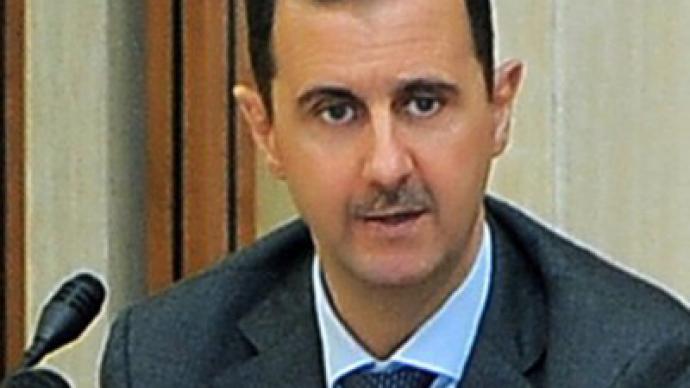 Moscow is calling for Washington and Brussels to give Syrian President Bashar Assad, whose government is attempting to contain large scale anti-government protests, more time for enacting promised political reforms before demanding he resign from office.
­Assad should be given time to carry out the political reforms he announced instead of calling for him to resign, said Konstantin Kosachyov, head of the State Duma International Committee.

"The political processes in Syria have a chance to reach the right decision, and what the international community needs to do now is to track how Assad is conducting the political reforms and not demand his immediate resignation," Kosachyov, mindful of NATO's gallop to war in Libya, told Interfax on Friday.

Kosachyov also expressed concern about the makeup of the protesters on the streets, which point to extremists and criminals.

"The theory of both Americans and their European colleagues that Assad's totalitarian regime is suppressing a popular revolt in Syria is only part of the real picture, which, by the way, shows that there are some elements of extremism and banditry among Syrian opposition protestors," he told reporters.
The United States and the EU have told Syrian President Bashar Assad he should give up power following reports that there were reported deaths among the anti-government protesters.
US President Barack Obama also issued an executive order seizing all Syrian state property on US territory and forbidding US citizens from doing business with Syria, including in the oil and gas sector. 
The American leader, however, stressed that military action is not a viable option. 
"The United States cannot and will not impose this transition upon Syria … We have heard [the Syrian opposition's] strong desire that there not be foreign intervention in their movement," he noted.
 Kosachyov also mentioned that it is very important to carefully examine the news reports and information that is coming out of Syria.

"The information about what is really going on in Syria is extremely fragmented and insufficient," the Russian Duma member stressed. "Politicians have to make their own conclusions from television pictures; however, these are interpreted differently in the West and in Russia, and at times this interpretation is directly the opposite, which means that the situation in Syria is far from being black and white."

When asked how long the international community should be expected to wait, Kosachyov said the period of time can be restricted "to one or two months, plus or minus some insignificant amount of time."

The head of the State Duma International Committee then provided his personal opinion regarding the Syrian president's chances for remaining in power.

"My personal opinion is that Assad does not have a political future, even if the reforms are successful," he said, while acknowledging that the situation was an "internal matter for the Syrians to decide."

Outside pressure on this country is possible, but reforms must be held without outside interference, he added.
Meanwhile, Russian Foreign Ministry spokesman Alexander Lukashevich reiterated the view that Russia does not support the position of US President Barack Obama and EU High Representative for Foreign Affairs and Security Policy Catherine Ashton, who demanded that Syrian President Bashar Assad step down.
"We do not share the point of view of the United States of America and the European Union regarding President Bashar Assad and will further pursue our principled policy line on Syria," he told Interfax on Friday.
Moscow believes the Syrian leadership should be given time to implement the planned reforms, Lukashevich said.
"Our position with regard to the events occurring in the SyrianArabRepublic consists of granting this country's authorities led by President Bashar Assad the sufficient time andresources required for the implementation of the large-scale program of socio-politicaland economic reforms, announced by him earlier," he said.
"Recently, Damascus has taken quite significant steps in this direction," Lukashevich noted. "The state of emergency has been lifted, the Supreme State Security Court has been dissolved, a decree has been adopted regarding the exercise of citizens' rights to peaceful demonstrations, the laws about general elections and political parties have been enacted, and the work on passing the legislation regarding mass media and local self-government is nearing completion."
Meanwhile, Syria is set to hold parliamentary elections before the end of 2011, and complete the constitutional reform before February-March 2012, he said. Furthermore, the Syrian leadership has announced amnesty for political detainees and opened its territory to humanitarian organizations, he said.
"The United Nations Office for the Coordination of Humanitarian Affairs is currently in Syria. The Syrian authorities are also due to receive a delegation from the UN Office of the High Commissioner of Human Rights," Lukashevich said.
Meanwhile, Russian NATO envoy Dmitry Rogozin has described the western alliance's policy toward Syria as "extremely lopsided."
"The alliance has completely turned a blind eye to the casualties the Syrian government and Syrian security services have been suffering during their crackdown on upsurges of violence," he told the Rossiya 24 television station.
According to Rogozin, NATO has chosen to keep silent about hundreds of members of Syria's law enforcement agencies and army who have been killed.
"It seems to me that NATO needs to scrap its lopsided policy, this black-and-white view on life because life is far more complicated," he said. "It is all about semitones. That is why it is unreasonable to label the leaders of states where the political threat is really increasing today as bad guys."
It was also reported on Friday that a Russian delegation of politicians, including senators, will pay a visit to Syria in the near future.

"A group of Russian politicians and Federation Council members is flying to Syria upon agreement with the Foreign Ministry over the next few days in  order to find out on the spot what is happening in this country," Federation Council International Affairs Committee  member Aslambek Aslakhanov, who will be traveling as part of the delegation, told Interfax on Friday.

"Today we can judge what is happening in this country only from the reports by news agencies, mass media and world television channels," Aslakhanov said. "All these reports are very conflicting, often one-sided and do not give a complete picture."

Aslakhanov then explained the purpose of the trip, which is to meet with both sides of the political divide, as well as meeting with the beleaguered Syrian president.

"Our task is to hold meetings with representatives of the current authorities, including the opposition," he noted.  "We are planning to meet with

Syrian President Bashar Assad, whom I know well. I've met him twice before."