'Bring Iran and Turkey on board Syrian summit' – Russia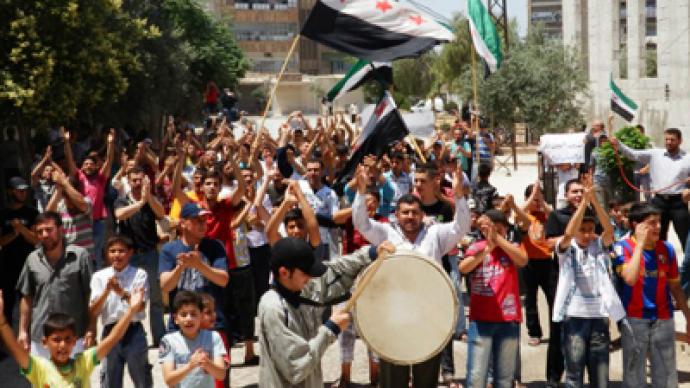 Foreign Minister Sergey Lavrov has called on Iran and Turkey to be included in an upcoming international meeting dedicated to ending the crisis in Syria.
"We believe it is necessary to assemble a meeting of states with real influence on different opposition groups. There are not that many,"
Lavrov said in Beijing, where he is accompanying President Vladimir Putin at a security meeting of the Shanghai Cooperation Organization (SCO).
"It is all permanent members of the UN Security Council, leading countries in the region, it is Turkey; one should not forget Iran, the Arab League, Organization of the Islamic Conference; the EU could contribute, I think,"
he added.
The United Nations has been working to get both loyalists to Syrian President Bashar al-Assad and the political opposition to accept the so-called Annan Plan, which calls for both sides to immediately recognize a ceasefire followed by diplomatic dialogue.
France plans to host a meeting in Paris in early July of the Friends of Syria – a coalition of countries that want President Bashar Assad to step down. Russia, however, would like to see less "disproportional representation" at the upcoming meeting.
"The goal of such a meeting – different to the Friends of Syria meetings which are devoted to supporting Syria's National Council and its radical demands – would be for all external players to agree, honestly and without double standards, to fulfill Kofi Annan's plan because we all supported it," Lavrov stressed.
Amidst the ongoing bloodshed in the Arab Republic, Putin and his Chinese counterpart, Hu Jintao called for international support for Annan's peace. Meanwhile, Lavrov stressed the diverse composition of Syria's opposition.

"It is important to remember that the opposition has a mixed makeup, there are various groups in the unquenchable opposition," the Russian diplomat said. "Meanwhile, those who stay in Syria categorically oppose foreign interference, and those groups of oppositionists, who are staying outside the country make more frequent appeals to the world community to bomb Assad's rule and replace this regime."
This is an absolutely risky way, this is the way leading to a catastrophe, he added.
"I hope that those who patronize such opposition groups realize this and hope that they will keep them (the opposition groups) from unreasonable appeals," the minister underlined.

While western nations blame forces loyal to Assad for the Houla massacre last month, which claimed 108 lives and helped to drive a wedge between international peace efforts, Damascus says "foreign terrorists" were the real culprits.