Russia gives green light to Pakistani UN-Syria draft
Published time: 20 Jul, 2012 09:59
Edited time: 20 Jul, 2012 20:30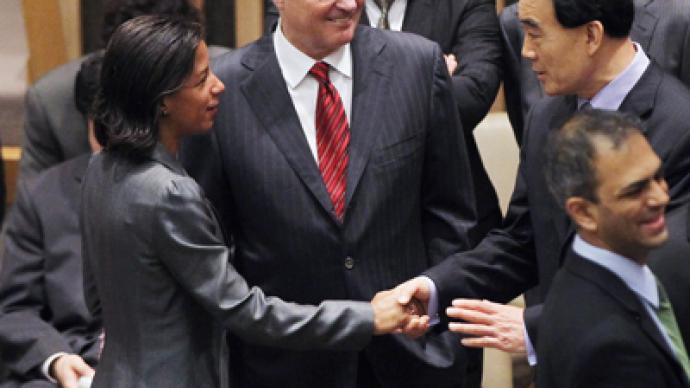 Moscow says it will vote in favor of passing a UN Security Council draft resolution that extends the UN observer mission in Syria.
­"We will support it because we helped draft it together with our Pakistani colleagues," Deputy Foreign Minister Gennady Gatilov told reporters on Friday.

The draft resolution proposes extending the UN observers' mandate, which expires on July 21, for another 45 days.

Vitaly Churkin, Russia's Ambassador to the UN, also expressed his enthusiasm for the draft.

"Definitely, this is a very good Pakistani text and we are going to support it," Churkin told reporters.

Despite Russia's upbeat assessment of the new draft proposal, it still must prevail over a British draft that agrees to extend the UN mission while at the same time slapping sanctions on the Syrian government.

Russia and China have stressed they would veto any extension of the UN observer mission that at the same time punishes Syria and its people.

Moscow continues to defend its position, reminding its western colleagues that Russia, which has held talks with various members of the Syrian opposition, is not taking sides in the conflict.

"It is a hypocritical position as they have done nothing to push the opposition towards the talks with the government" Gatilov commented over Twitter in response to a statement by US Ambassador to the UN Susan Rice.  Rice had previously blamed the escalation of Syrian violence on Russia and China's decision to block the UN resolution.

Foreign Ministry spokesman Aleksandr Lukashevich called the efforts of some western countries to blame Russia for the spike in violence "absolutely inadmissible."