Security Council will never sanction Syria bombing - Lavrov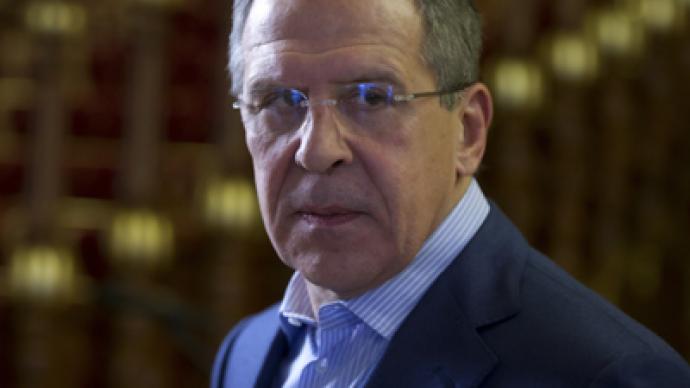 The Russian Foreign Minister has said that combat aircraft and bombs will never solve the political crisis in Syria.
"If they tell Bashar Asad to leave and he refuses to leave, what can they do? Summon combat aircraft? Bomb him? We have already been through that and the Security Council would never approve of that, I guarantee you that,"Sergey Lavrov told the press in Sydney on Tuesday. The head of Russian diplomacy was keen to point out that his country had never said retaining Bashar Assad in power was a precondition for a settlement.However Lavrov insisted that the fate of Syria must only be decided by the Syrian people. "What we were saying was different – that the decision must be made by Syrians, that all groups of Syrians must get together at the negotiation table and reach an agreement. They must decide who must go and who must become a replacement," the Russian minister said. Lavrov also said that Russia was strongly against any foreign interference in the talks and particularly opposed barring any Syrian figures or groups from negotiations.The Russian Foreign Minister also said he was not deliberately ignoring phone calls from US Secretary of State Secretary Hillary Clinton, but simply could not violate diplomatic protocol by disrupting scheduled negotiations with Australian diplomats. "Literally today I was told by phone that Hillary Clinton has called and wanted to talk. They offered an exact time and this was in the middle of my meetings with Australian partners. We naturally told the Americans that during the time that they find convenient I will be at the talks and it is not in our diplomatic tradition to insult the partners in talks or to show disrespect to those with whom we agree to meet," Lavrov said. When reporters asked why Clinton had complained that she could not get through for a long time, Lavrov suggested that it could probably be explained by manners. "I don't know why Hillary would need to talk to me so urgently," Lavrov said, and added that Russia's top diplomats in New York were always available for negotiations. Aides to Russia's Foreign Minister told RT soon after Lavrov's comment that the information that the US State Secretary tried to reach Lavrov for 24hrs was a ploy to turn public opinion against Russia. The US State Department spokeswoman Victoria Nuland told reporters in Washington on Monday that Hillary Clinton had been trying unsuccessfully to connect with Sergey Lavrov. "The secretary, frankly, has been trying to get Foreign Minister Lavrov on the phone for about 24 hours," she said in Washington. "That's proven difficult," the US official said.Later in the day the Russian Foreign Minister told the Australian news channel ABC that his country would fulfill signed deals to supply weapons to the Syrian authorities, but added that the Russian weapons were not of a kind that could be used against demonstrators."We have signed the contracts and we must fulfill them," Lavrov said.The minister also said that Russia had no intention of persuading the Syrian leader, Bashar al-Assad, to stand down."Russian policy is not in asking anyone to resign. Change of regimes is not our profession," Lavrov said. At the same time, the Russian official repeated that his country was "neither friend nor ally" of President Assad.
You can share this story on social media: