Presidential human rights council proposes "de-Stalinization" measures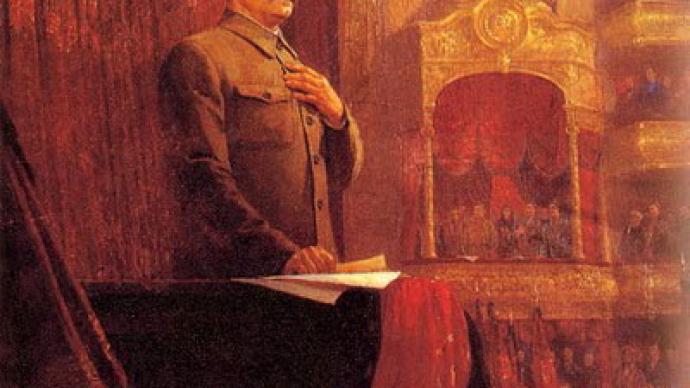 Human rights activists suggest that a federal program be adopted to help victims of the totalitarian regime and commemorate those repressed during the Stalin era.
Members of the Presidential Council for facilitating the development of civil society institutions and human rights are expected to meet with the president in January. The issues to be discussed include protecting interests of children and maternity, judicial and police reform and perpetuating memory of victims of the totalitarian regime.   De-Stalinization should become the main topic of the forthcoming meeting of the council, believes Mikhail Fedotov, the head of the human rights council. He was appointed to the post by the president in October after Ella Pamfilova's resignation. Dmitry Medvedev a year ago condemned Stalinist repressions, saying they could not be justified.   Human rights activists have prepared specific measures to perpetuate the memory of victims of the totalitarian regime, said Yury Dzhibladze, a member of the council. According to Dzhibladze, more commemorative signs will be erected around the country. Building memorial complexes is proposed in several cities, including in Moscow and St. Petersburg. A unified Internet database on victims of the totalitarian regime should be also created, Dzhibladze said. It could follow the example of the data base of the participants of WWII, made by the Defense Ministry, he noted.Members of the presidential council suggest opening state archives. According to Dzhibladze, without this measure "it is impossible" to work on perpetuating memory of victims of the totalitarianism.Social support of those victims who survived repressions is also on the council's agenda. The state has enough resources to "adequately" help these people, Dzhibladze believes.According to another member of the human rights council, Sergey Karaganov, the "de-Stalinization" word will not be on the January meeting's agenda. The discussion will be devoted to broader issues of "national reconciliation and memory of the victims of the totalitarian regime," he told Vedomosti daily. The council's members suggest that political and legal assessment of the totalitarianism's crimes should be done by the state. A presidential decree could be one possibility, Karaganov believes. The document may "list the crimes" and ban the glorification of Stalinism, he noted.  The proposed measures were partly prompted by the recent attempts to place posters with Joseph Stalin's photos in Moscow and the publication of some history textbooks that allegedly justified the former Soviet leader's methods.Sergey Krivenko, a member of the Presidential Human Rights Council, noted that court proceedings against the crimes of the Stalinist regime have been also suggested. Legal documents of that time regarding the issues of "collectivization, Katyn and the Great Terror" should be assessed according to judicial norms, he said. A strong signal of de-Stalinization was sent recently by Russia's State Duma. The lower house of parliament on November 26 adopted a resolution than acknowledged the Stalin regime's responsibility for the mass killings of Polish citizens in Katyn in 1940.
Sergey Borisov, RT
You can share this story on social media: