'Sidelines no place for Russia on AMD' - Lavrov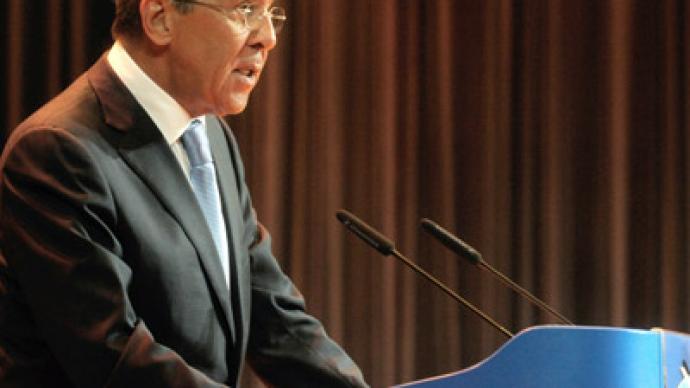 Russian Foreign Minister has again called for a common European Missile Defense system, despite NATO's push for its own system over Europe.
Talking to the press Wednesday, FM Sergey Lavrov confirmed that common missile defense was a priority and repeated Russia's position."They invite us to observe the realization of the scheme that has been perceived by us from the very beginning as the one that creates risks for our strategic deterrent forces," the Russian minister said.The comment was issued after Ellen Tauscher, undersecretary of state for arms control and international security, told a forum hosted by the Atlantic Council on Tuesday that the United States was prepared to offer written assurances that the system being built is not directed against Russia. "We cannot provide legally-binding commitments, nor can we agree to limitations on missile defense, which must necessarily keep pace with the evolution of the threat," the US official said.The Russian Foreign Minister noted in connection with this that it was better to hold the dialogue from slightly different positions."First we must develop such architecture for missile defense that would be surely directed outside Europe and thus would not be creating risks or threats to anyone inside Europe. And only then we should start create this in metal and invite each other to monitor the process," Lavrov said.Russia has opposed the US and NATO plans to create a new missile defense system in Europe since these plans were first approved at the NATO summit in Lisbon in 2010. Russia's protests have led to changes in the plans, but the general concept remained and the United States is pushing it through.Russia has said that the persistence in this question could lead to a new arms race and warned about preparing cheap and effective counter-measures to the US system. The Russian side also repeatedly demanded some legally-binding guarantees that the missile defense system would not be aimed against Russian targets. The United States said they would like to see Russia as a partner in creating the missile defense system for Europe, but has so far failed to explain what Russia's role would be in it, apart from passive monitoring and sharing its intelligence data.Russia proposes the creation of a common European missile defense with equal participation of all sides.The US side seeks to reach an agreement with Russia before the forthcoming NATO summit in Chicago that will take place in May, but the recent developments suggest that this most likely will not happen.
You can share this story on social media: