United Russia seeks tougher punishment for illegal rallies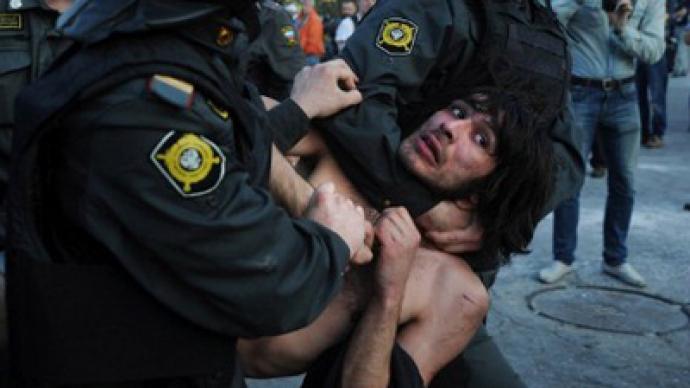 A group of MPs representing parliamentary majority party United Russia suggests raising the fines for illegal rallies 500-fold and introducing forced labor as a punishment for holding them.
The draft law suggested upping the maximum fines for violating the rules on rally organization, from the current 2,000 rubles (about $70) to 900 thousand rubles (about $30 thousand). It was submitted to the State Duma by United Russia deputy Aleksandr Sidyakin with support of fellow party members. It was also supported by a deputy who had earlier quit the Fair Russia party: Russian law allows political parties to give parliamentary seats to non-members, and MPs to change allegiance in midterm.Another punishment suggested in the draft law is up to 200 hours compulsory work. At present, the organizers and participants of an illegal rally can face up to 15 days of administrative arrest.The initiator of the bill told reporters that in his view the fine of 2,000 rubles was too small, and putting protesters under arrest for just 15 days allows supporters to present them as martyrs, without adding enough discomfort to their life to stop the unwanted practice.Sidyakin also said he was sure that the bill would be approved by the Lower House in the nearest future. Violations of the rules on organizing mass rallies and other street protests have recently been many, as the number of protests in Russia went up after parliamentary and presidential elections. Most often, punitive measures were applied to leaders of opposition groups, but supporters of the current Russian authorities have also been fined for exceeding the announced number of participants at their marches.Presently, the leader of the Left Front movement Sergey Udaltsov and anti-corruption activist Aleksey Navalny are serving 15-day arrest sentences along with several other protesters who disobeyed police demands at Sunday's "March of Millions" and subsequent clashes with law enforcement.
You can share this story on social media: