Putin vows 'Russia will never forget Holocaust'
Published time: 8 Nov, 2012 15:58
Edited time: 8 Nov, 2012 19:58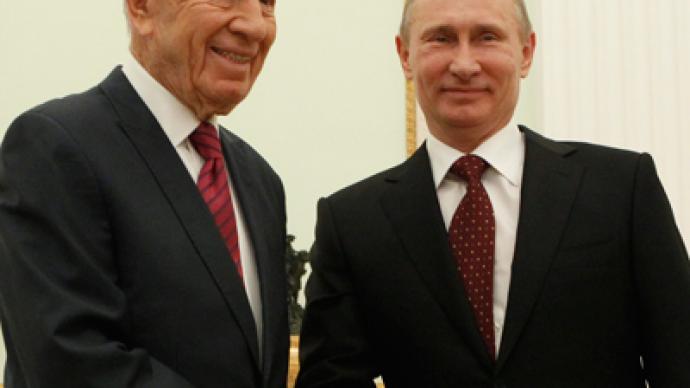 President Vladimir Putin reaffirmed Russia's commitment to tolerance and open societies during a meeting in Moscow with Israeli President Shimon Peres.
Though Russia and Israel disagree on several issues, the two nations share an avowed dedication to battling extremism – their mutual histories overlap during one of the bloodiest chapters of human history.
Putin told Peres that while Russia is not totally free from anti-Semitic extremism, the country will never forget the darkest moment in the history of the Jewish people.
"We will not forget the losses that the Jewish people suffered in fighting Nazism, nor will we ever forget the Holocaust," Putin said.
An estimated 27 million Russian soldiers and civilians died in World War II, and six million Jews were killed in Nazi concentration camps.
Peres pointed to the lesson of World War II, when the United States and the Soviet Union put aside ideological differences and engaged to defeat Nazi Germany.
"It would have been impossible to defeat Nazism without interaction between the United States and the Soviet Union," Peres said. "If they saved [the world] from Hitler then, now these two countries should join forces to save nations from a new Hitler."
The Israeli President also lauded Russia as the place where "the State of Israel was born." The majority of the founders of modern Israel came from Russia, Peres said, adding that the population of Israel includes some 1.2 million immigrants from former Soviet nations.
"Thank you to the Russian people from the Jewish people, thank you for something that has been done for centuries," he said.
Peres attended the opening of Moscow's Jewish Museum of Tolerance, the largest of its kind in Europe. The Russian president said the building represented Russia's dedication to "eliminating xenophobia and nationalism."
Putin closed his speech by saluting the recent creation in Israel of a monument honoring Red Army soldiers.
"Any decent and honest person must be thankful to Russia and honor the Red Army, which demonstrated unheard-of courage in what was an extremely hard period," the Israeli President said.