Post-election Russia: Putin's new ideology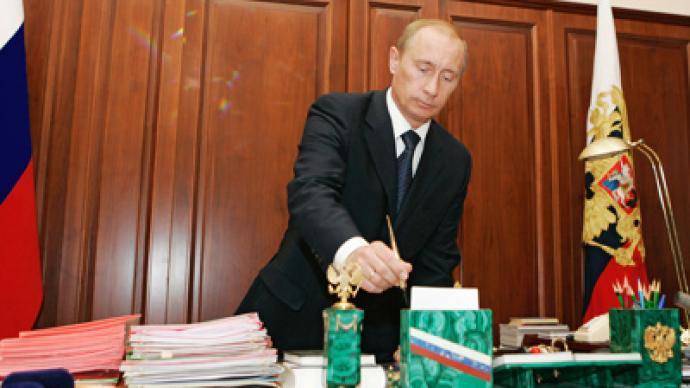 Russia's instability, emphasized by the recent elections, has prompted an elaborate political transformation. Writer and political scientist Igor Panarin believes Vladimir Putin's top priority as president should be to adopt a new state ideology.
In the article below, professor Igor Panarin explains his view.Russia's recent parliamentary and presidential elections took place amidst a deepening global economic crisis, and were characterized by growing unrest in some of Russia's regions. The rising social and political tension culminated in mass street protests in Moscow and St. Petersburg throughout the past winter.This invites a question as to what the Russian government should do to promote reconciliation and consolidation within Russian society, and to enhance its own legitimacy. To this end, it would be advisable for Russia to embrace a new state ideology based on three pillars: Spirituality, Greatness and Dignity.Such a move seems all the more desirable, since the recent presidential election was marked by blatant attempts at influencing Russian politics by foreign powers, with the United States and Britain openly backing diehard anti-Putin opposition in Russia, and US Ambassador Michael McFaul holding regular meetings with opposition leaders in Moscow.Numerous developments in recent years (2008—2012) indicate that the world has entered a period of profound political, economic, financial and ideological transformation. As social and economic challenges mount in Europe and the United States, the globalist world order is increasingly shifting toward the unashamed use of "controlled chaos" strategies. This attitude had its heyday in Libya, where NATO set a malicious precedent for brazenly intervening in the domestic affairs of a sovereign nation, invading it and deliberately sowing chaos for years to come.Today, the alliance is pursuing a similar policy in Syria. What nation will it choose to invade next? Could it be China, or India, or Russia?The escalating violence in Syria provided a rather compelling background for Russia's presidential race this year. The recent campaign was exceptionally difficult and stressful for Vladimir Putin, but he still scored a sweeping victory at the end of the day, thanks to the tens of millions of truly patriotic voters. Putin's electoral triumph signifies Russia's victory in countering a foreign media aggression. It means that Russia's consolidated forces of reason have effectively prevented a British-led scenario for crippling Russia, February 1917-style. However, the media warfare carries on. That suggests a key priority for Russia's newly-elected president, which is to promote the nation's spiritual development while maintaining stability, securing the state and the public against a global crisis in a situation of profound change in the global architecture. Russia's spiritual progress would encourage positive change worldwide. A spiritual Russia is capable of accommodating all the basic human and social values, such as justice, patriotism, diversity, etc.Mass media and ideology are admittedly the weakest spots of modern-day Russia's statehood. A number of Russia's public institutions and practices apparently beg to be reformed in the nearest future, and proper interaction between the state and civil society is a desperate necessity. All the more so since the recent election has demonstrated that Vladimir Putin and his policies no longer enjoy the kind of popular support they had some five or 10 years ago. In this situation, the Russian government should adjust some of its policies, as well as propose a national agenda to the public, as in a set of underlying values in charting the nation's strategic development goals. Such a national agenda should draw a nationwide discussion, enjoy extensive media coverage and ideological promotion, and be finalized through an all-Russian Representative Assembly. Vladimir Putin could announce the convocation of such an assembly while paying tribute to Kuzma Minin's monument in Nizhny Nogorod on 4 November 2012, scheduling the meeting for 7 January 2013. A new Russia could find its major national symbols in the great personalities of the past, such as Aleksandr Nevsky, Reverend Sergius of Radonezh and Reverend Seraphim of Sarov, scientist and educator Mikhail Lomonosov, Generalissimo Alexander Suvorov, poet Aleksandr Pushkin, writer Fyodor Dostoyevsky, chemist Dmitry Mendeleev, cosmonaut Yuri Gagarin, etc. Nationwide reforms need to be carefully deliberated and planned, and then implemented swiftly and decisively. Among the top priorities, all branches of power should engage every civil society institution and every political party in discussion over the essence of the much-needed change with regard to mass media and ideology. To that end, expert analysis will be indispensable. Successful examples of such crucial deliberation in the middle of a crisis can be found in world history, including Russia's own history. Nizhny Novgorod citizen Kuzma Minin spearheaded a historic process of national consolidation and revival that enabled Russia to resurge from the Time of Troubles in the early 17th century. That why it is so important to analyze the historic experience of the all-Russian Representative Assembly of 1613. A comprehensive, nationwide public discussion on a new national agenda to be finalized by a Representative Assembly could enable Russia to overcome disunity and endure the looming political crisis.
Prof. Igor Panarin, Doctor of Political Sciences, specially for RT
The statements, views and opinions expressed in this article are those of the author and do not necessarily represent those of RT.
You can share this story on social media: